Rocky Fast Cruise Boat
---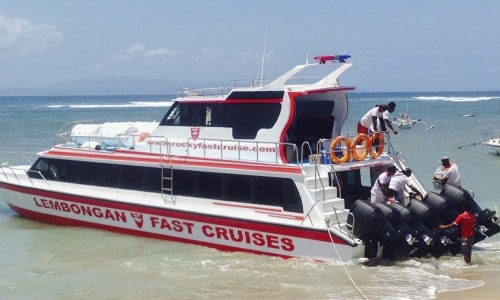 Rocky Fast Cruise Boat is One of the most recommended fast transfer from Bali to Nusa Lembongan, the company has been established with a strong management. Rocky Fast cruise offers daily trips from Sanur to Nusa Lembongan.
They have offered four times a day, the earlier boat from Sanur is at 10.00 AM and the latest boat is at 16.30, while the earlier boat from Nusa Lembongan to Sanur is at 09.00 AM and the latest one is at 15.30. At the moment Rocky run three main boats and powered with outrigger Suzuki engine.
Boat Bali to Nusa Lembongan
The only best option to get to Nusa Lembongan is getting on the fast boat. The fast boat to Nusa Lembongan offers the quickest way to the Island with the estimated time of traveling is 30 minutes from Bali-Sanur. Rocky Fast Cruise Boat has a good record in doing the transfers between Bali and Nusa Lembongan during the years they operate the Fast Boat transfers.
Nusa Lembongan has offers a lot of amazing day activities, Diving, Snorkeling, Surfing, Island Tours or some others water activities. Rocky fast Cruise has also offered some great Island tour packages, such as full-day cruise packages or day tours in Nusa Lembongan. Gilibestdeal.com always offer the cheapest fast boat tickets with Rocky fast Cruise Boat.
Service Types within the Price
The service is including with pick up service for the following areas; Sanur, Kuta, Seminyak, Ubud Monkey forest, Nusa Dua Jimbaran McDonald, there will be an extra for the remote areas IDR 250.000/car, mineral water on the boat.
When you book a ticket for the Rocky fast cruise, always note that you can get on any Rocky's boats. There will be some pickup and drop service in Nusa Lembongan as well, so when you book, please make sure that you fill out your hotel address in Nusa Lembongan on the booking form provided. And if you find any problem during the transfers from your hotel to your destination, please see the contact details for Rocky Fast cruise on your e-ticket or you can also send the emails.
The company which is totally under the local management has been put their effort and their best service during the years they run the company, so this should be a well recommended boat transfers for your holiday trip to Nusa Lembongan.
Take any schedules suit your holiday schedules on Rocky Fast Cruise and get their smooth handling on your during your transfers.
Boat Specification
Type: Fiber Mono hull, Engine:2x250 HP Our Boards, Length:12.5M, Width: 3M, Capacity:25 People, Safety Equipments: Life rafts: 2 pieces, Life jackets: 25 Pieces, Fire extinguisher, First and Aid kit
Navigation Equipments: GPS System 3 in 1, Marine VHF Radio
Rocky Fast Cruise Boat Schedule 2017-2018
| | | | | | | |
| --- | --- | --- | --- | --- | --- | --- |
| Departure Point | Departure Time | Arrival Time | Destination Port | Approx Duration | Baggage Allowance | Tickets Price |
| Sanur | | | Lembongan | 30 minutes | 25kg/person | $23 |
| Lembongan | | | Sanur | 30 minutes | 25kg/person | $23 |
Note: The estimate times are depending on the sea condition, can be more sometimes, especially on the raining season, beginning of October until the end of April.