Tiu Kelep Waterfall, North Lombok
---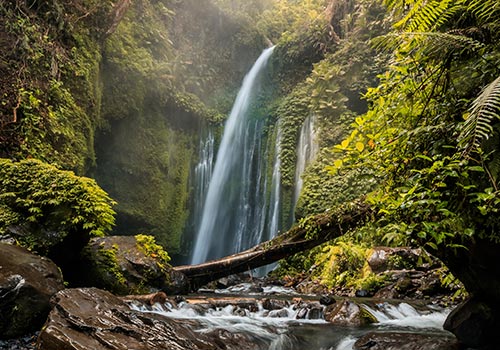 Tiu Kelep waterfall, North Lombok is one of the famous waterfalls in Lombok. It is worth visiting at any time. The waterfall is located under the foot of Mount Rinjani in Senaru village North Lombok Regency.
Senaru village is the main gate to enter the waterfall. You will need to step down and walk along the rainforest for approximately 45 minutes. Enjoy the walk along with the water flows. On the way back you can stop at Sendang Gile Waterfall.
At Senaru village, you can enjoy authentic local foods or Western cuisine while enjoying the stunning landscape view. You can also visit the Lombok traditional houses in Senaru.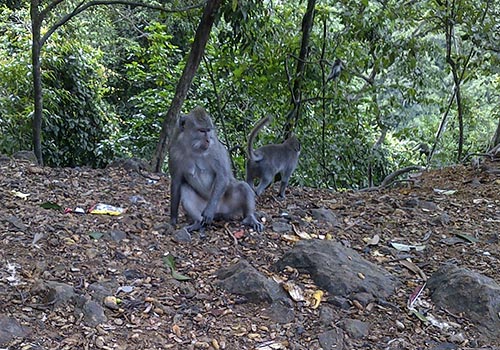 Getting to Tiu Kelep Waterfall
Tiu Kelep is about 2 1/2 hours from Senggigi, 4 hours from Kuta, and 1 1/2 hour from Gili islands. If you stay in Senggigi or Kuta area, you can drive via Pusuk or Malimbu beach. Pusuk is the place where you can see wild monkeys while Malimbu has the best sea view along the way.
Here's how to get to Tiu Kelep Waterfall:
Rent a motorbike or car. Drive through Pusuk and Maimbu to North Lombok for approximately 4 hours from Kuta and 2 1/2 hours from Senggigi. If you stay on the Gili Islands, you may rent a motorbike or car in Bangsal. Bangsal is the main harbor connecting Lombok and Gili islands.
Join the Lombok tour packages. Find a reliable Lombok tour agency and book your waterfall tour with them. Most of them will manage the things you need during the tour.
If you are in Bali or Gili Islands, you can take a Lombok fast boat or a Gili speedboat. Get off at Bangsal or Teluk Nare and then you can rent a transfer to Tiu Kelep. You can also join the above option to get there.
Accommodation & Restaurants
Accommodation and restaurants are available at Senaru village. The main gate to enter the waterfall. Accommodations and restaurants are spread along the main road.
There are a variety of accommodations, homestays, and villas available. While restaurants offer both types of cuisine, Indonesian and Western foods. Accommodations are more for Rinjani trekking transit, which means you will overnight here before hiking.