Privacy Policy
---
Protecting clients privacy is very important and a seriously part of our bussiness. This privacy Policy is applying to all of our services or products on this site.
Personal Information collected by Gili Best Deal
Information that we collected is aim to give you a better service,we won't share any information of you to other purpose. In some cases, we may not be able to provide our better services if you refuse to provide us with the Personal Information that we need on the booking proces or payment.
We commit that share clients information to others purpose is againts to the law. And we take responsible to any personal information that you put during you make the booking or payment transaction.
Types of Personal Information that we collect are names,nationality, e-mail address, phone,address(state), pick up location, credit cards details and billing address for the payment processes by Paypal
Do We share the information to the third party?
We will send your personal information such as, your name,nationality,pick up location,telephone number or e-mail adress to the fast boat operator inother to give you a better service and easy for them to reach you,whenever there is any additional information about your trip.
Any change to your personal information details,please let us know by sending us an email and details information you want to change to reservation@komodowisata.com
Change the Privacy policy
Any change to this privacy policy is authorised by Gilibestdeal.com, and will publish on our site.
Bali to Lombok
Getting to Lombok is a five hours by slow ferry and 1 ½ hours by fast boat from Padang Bai. Now the Fast boat to Lombok serve direct trip to the main tourism object in Lombok(Senggigi) without any extra cost for the taxis or cars as they offer a free hotel pick up in Bali. Fast boats are the only best choice to avoid a long day trip from Bali to Lombok, the fast boat ticket to Lombok are not at that expensive as you have found in some ways you have searched, here We offer a lot of best deals with an instant booking confirmation and soonest get an e-tickets.
Gili Kedis Island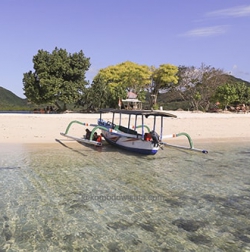 Lombok to Gili Islands
Best option Lombok to Gili Islands is getting on the speed boat from Lombok to Gili, We provide the cheap speed boat tickets arrangement from Teluk Nare (North Lombok) about 25 minutes from Senggigi and also fast boat transfers direct from Senggigi to Gili Islands. Most we offer at the moment is private speed boat which is maximum capacity 5 people for one boat, to book and see the boat availability, schedules and price you can go to search box. The boats travel time is about 15 minutes from Teluk Nare, it can be more sometimes, depend on the sea condition. The boat from Senggigi to Gili Islands takes about 20 minutes.