Selong Belanak Beach, Central Lombok
---
Selong Belanak Beach is located in Central Lombok, West Nusa Tenggara Indonesia. This is one of the famous Lombok tourist destinations. The beach offers white sandy beaches, a small rolling wave, and a stunning sunset point.
This beach is also a perfect place to learn surfing. There are many beginner surfers who are learning here. Local surf instructors provide a playful environment for you to get an enjoyable surf experience.
On the other hand, you will find the fisherman on the left corner of the beach. You may spend the night on the beach while firing camp or grilling fish. You will also find some buffalo in the afternoon crossing the beach.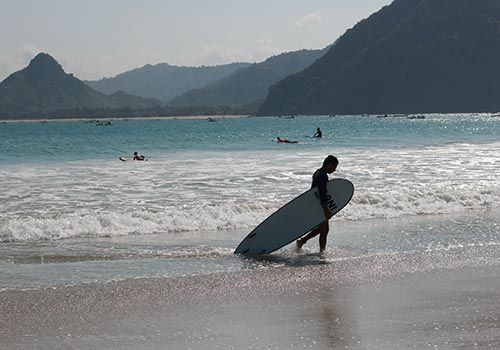 Getting to Selong Belanak Beach
The first thing to do before getting there is to get to Lombok Island. The preferred way to get to Lombok is by fast boat to Lombok or flight from Bali and Jakarta. The other options are the ferry from Padangbai Bali to Lembar harbor Lombok.
Selong Belanak Beach is about 1 1/2 hours from Senggigi, and approximately 2 1/2 hours from Gili Islands. If you are staying in Kuta Lombok, you will need 45 minutes to get there. Here is how to get there:
Rent a motorbike or private car. If you are from Senggigi or Gili Islands, drive to the Southeast to Central Lombok. While if you are in Kuta Lombok, you need to drive to the North coast.
Join the Lombok tour packages. There you can find a variety of tours and you will stop at some other places. The tour operator will provide you with a private hotel and airport transfers.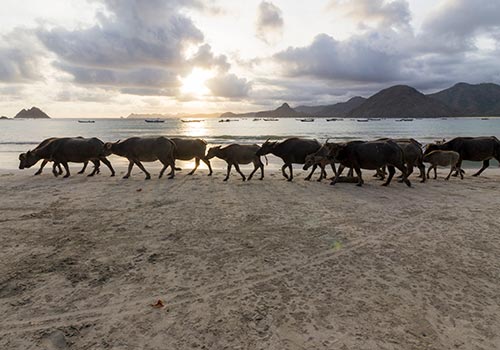 Restaurants & Accomodations
Accommodations and restaurants are spread around. You can choose to stay at a variety of accommodations, from homestay to luxury villas. Most homestays are spread around the beach while villas are located up the hills.
For accommodation bookings, you can go to some online portals such as Agoda.com and Booking.com. Otherwise, you can also book directly into the accommodation you want.
Restaurants are also spread around the beach. They are available in local and Western cuisine. Enjoy the perfect lunch on the beachside and a beautiful night if you stay there. No nightlife appears here.