Sanur Beach Harbor Bali
---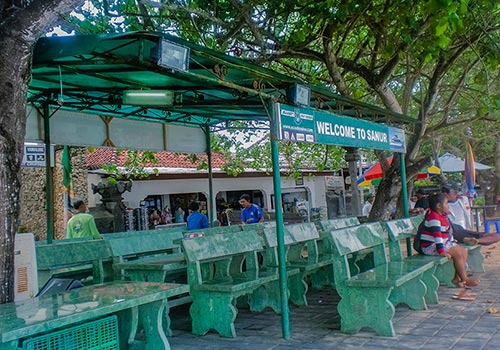 Sanur Beach Harbor Bali is the main port for boat transfer from Bali to Nusa Lembongan and Nusa Penida. In the last few years, Scoot Fast Cruises open a new travel destination from Sanur to Lombok and Gili Islands.
The route of the Scoot Fast Cruise is from Sanur to Nusa Lembongan, and then to Gili Islands and Lombok. Boat Bali to Lombok and Boat Bali to Gili making a stopover on Nusa Lembongan before continuing the travel.
Sanur harbor seems much more private compared to Padang Bai. The fast boat to Nusa Lembongan offers the schedule four times a day. The early boat leaves at 09.30 AM in the morning and the last boat departs at 05.00 PM.
The harbor is located on the Jl. Hang Tuah Sanur Beach. It is about 500 meters from four junctions in front of Dunkin Dun nuts.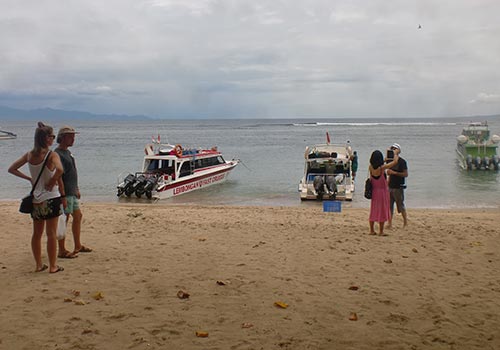 Getting to Sanur Harbor
Sanur beach harbor is a close harbor to most South Bali areas such as Kuta and Legian. You will need less than 30 minutes to get to the harbor.
Mostly of Fast Boat operators offer free hotel transfers, especially South Bali area. So what you need to do is fill in your hotel details when you make a booking, and they will pick you up.
If you decide to come by yourself to the harbor, you need to make sure you know the place. Otherwise, you can get in a taxi or private car. Most of the drivers know the exact of Sanur beach harbor Bali.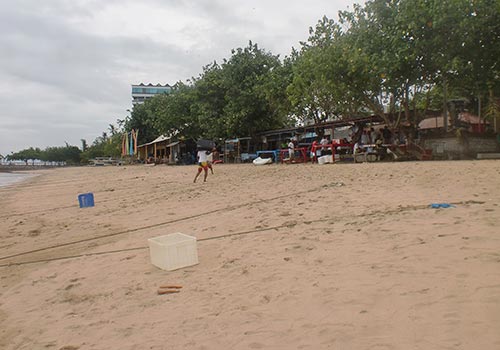 Accommodation Around Sanur Beach
Accommodations and Restaurants near the port are available from backpackers to five stars hotels. So if you decide to stay around the harbor area, it is a perfect way to reach the harbor.
The accommodation range is from IDR 200.000 to 1.000.000 per night. To book the accommodation, you can visit some online booking sites such as booking[dot]com. You can also come directly to find the one suite to your budget.
Restaurants are spread around the beach, also you will find some along the street. They are serving western and local cuisine, and kinds of seafood are also available on the beachside.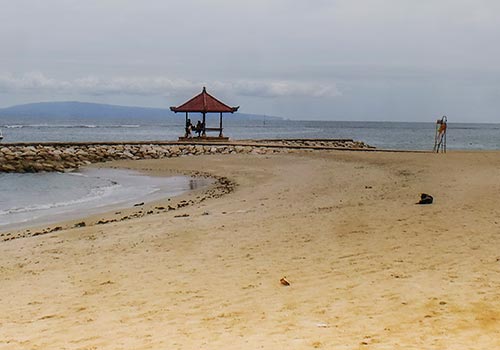 Fast Boat Operators from Sanur Beach Harbor Bali
Sanur Beach is a close port if you stay in South Bali such as Kuta and Legian. It takes 30 minutes to get to Sanur port by car or taxi. If you stay in the Kuta area, we recommend you take the fast boat from Sanur Beach.
The boat destination from Sanur Beach harbor is Nusa Lembongan, Lombok, and Gili Islands. Here are the fast boats which depart from Sanur beach:
Scoot Fast Cruise
Maruti Duta Express
D'Camel Fast Ferry
Scoot Fast Cruises is the only fast boat operator which is running daily from Sanur to Lombok and Gili Islands. While Maruti Express and D'Camel Fast Ferry operate daily to Nusa Lembongan and Nusa Penida.
The boat to Gili islands and Lombok is running daily one time at 09.30 AM. It makes a stopover in Nusa Lembongan before continuing to Lombok, Gili Air, and Gili Trawangan.
The best Gili fast boat price from Sanur to Nusa Lembongan is D'camel Fast Ferry. D'camel offers 4 times schedules in a day, so you have a lot of choices of travel times. Book the fast boat to Nusa Lembongan online with a reputable company and travel safety.
Traveling from Sanur beach to Nusa Lembongan is not that long, it is only 30 minutes. The fastest boat provides internationally standard safety. So do not worry when you decide to travel on the fast boat from Sanur to Nusa Lembongan.