5 Recommended Dive Operators On Gili Trawangan
---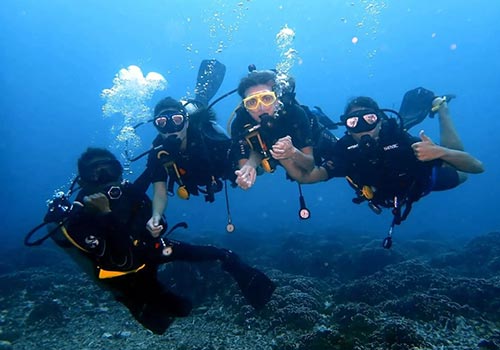 Diving is one of the best activities while you are on Gili Trawangan Island. The 5 recommended dive operators on Gili Trawangan will allow you to book your perfect dive trips on the island. We recommend you the best and most professional dive operators.
Gili Trawangan is an island located in north Lombok. An island is a group of small islands which is called the Gili Islands. The other two Gili islands are Gili Air and Gili Meno. Gili Trawangan offers amazing underwater marine life.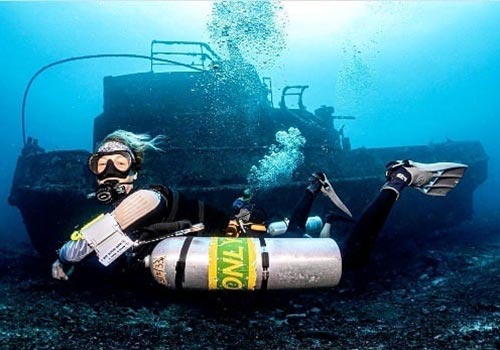 The 5 Recommended Dive Operators on Gili Trawangan
For your best dive experience on Gili Trawangan, here we recommend the 5 best dive operators where you can book your dive trips. You may choose to select one of the following recommendations. Otherwise, you can choose to go with your own selected dive operators.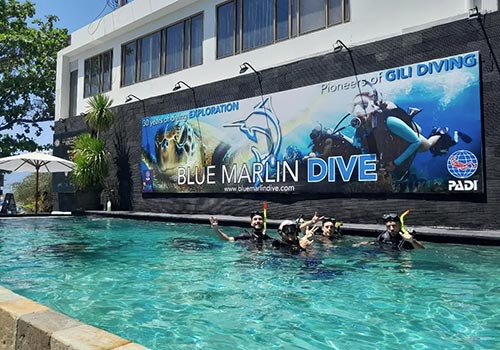 The following are 5 recommended dive operators on Gili Trawangan:
Trawangan Dive is an award-winning PADI 5-Star Instructors Development Dive Resorts. It is located in northeast Gili Trawangan. On this dive operator, you can join Fun Dives, PADI Dive Course, TDI (Technical Diving International), and Conservation Course.
Dream Divers is located in the center of Gili Trawangan. You can book your SSI dive course, Fun dive, and snorkeling trip with Dream Divers. Dream divers also provide multiple language dive Instructors, Germany, France, Italian, Spanish, and Finnish.
Manta Dive is located about 100 meters from the Gili Trawangan public harbor. Manat Dive offers daily dive trips, fun dives, PADI dive courses, and also free dives. Besides that, Manta Dive also provide accommodation for mid-range.
DSM Dive Center is a PADI 5-Star and FFESSM dive center. It offers dive courses and fun dives. You can take Discover Scuba Dives, Open Water Dive, Advance Diver, Rescue Diver, Dive Specialities, and Dive Masters.
Blue Marlin Dive is located in the center of Gili Trawangan. This is one recommended dive shop where you can book your dive trips on Gili Trawangan. Blue Marling Dive Center is one of the longest-running dive operators in Gili Trawangan. You can join fun dives and Dive Courses with them.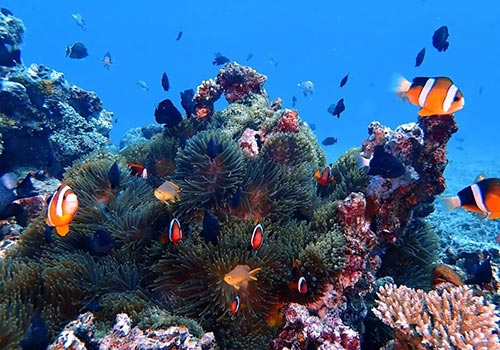 Numerous Dive Sites in Gili Trawangan
There are more than 5 dive sites found in Gili Trawangan. Most of the dive sites are suitable for all levels of divers. Some of them probably need advanced certified divers.
Deep Turbo is located on the northeast side of Gili Trawangan Island. This dive site is only suitable for advanced-level divers. What you will find here are beautiful corals, red triggerfish, moray eels, and sometimes leopard sharks.
Shark Point is located on the north side of Gili Trawangan. This point is one of the most popular dive sites on the Gili Islands. On this site, you will find a variety of sharks, whitetip sharks, and blacktip sharks. You will also find trevally, barracuda, stingrays, and snappers.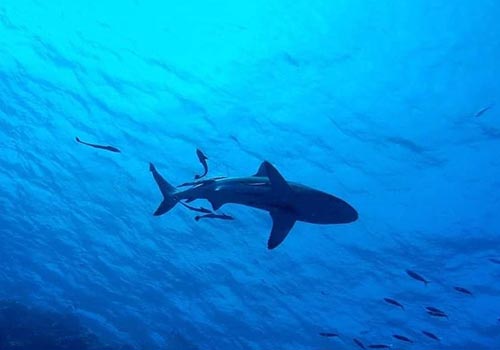 Manta Point is located in southwest Gili Trawangan. This is a site where you can experience see Manta Rays. Besides that, you can also see beautiful coral reefs, octopuses, cuttlefish, and reef sharks.
Bio Rock is located in one of the best dive sites where you can see colorful fish. You can find lionfish, sweetlips, batfish, and trumpetfish. You will also enjoy the beautiful corals on this site. This site is perfect for macro diving.
Halik Reef is located on the north side of Gili Trawangan. It is the best dive site to spot moray eels, lionfish, clownfish, groupers, and parrotfish. If you are an advanced diver, you can go to a deep of 40 to find coral ridges, reef sharks, and canyons.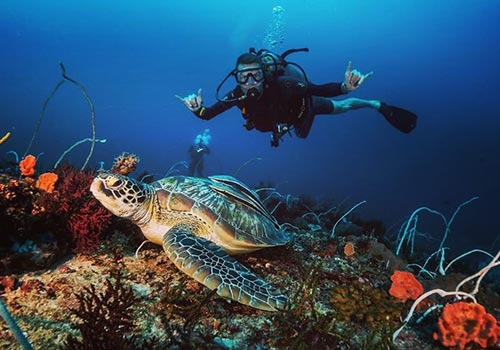 Getting to Gili Trawangan from Bali and Lombok
Gili Trawangan is only accessible by boat from Lombok and Bali. There are many fast boat operators running between Bali and Gili Trawangan. They offer a daily departure from Padang Bai, Sanur, and Serangan harbor.
If you are on Lombok island, you can get there by boat from Bangsal or Teluk Nare harbor in north Lombok. It will take around 30 minutes by local outrigger boat from Bangsal and 10 minutes by speed boat from Teluk Nare.
For those who are on Nusa Lembongan and Nusa Penida, you can also get on the fast boat to Gili Trawangan. There are a few fast boat operators running from these islands to Gili Trawangan.