Gili Meno Island, North Lombok
---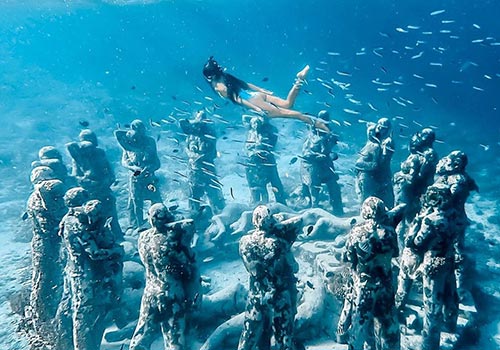 Gili Meno is an island in the North Lombok regency. It is one of the 3 Gili Islands groups which stay between Gili Trawangan and Gili Air. The island is quite more relaxing than other Gili Islands and looks much more natural compared to other Gilis.
This small beautiful island is completely showing the amazing white sandy beach. You will also find beautiful marine life and corals, especially on the Northside. There is also a salted lake and bird park in the middle of the island.
Gili Meno is also the place where you can find turtles conservation. It is a perfect island to spend if you want more relaxation and enjoy the holiday. You will also enjoy the perfect sunset on the island.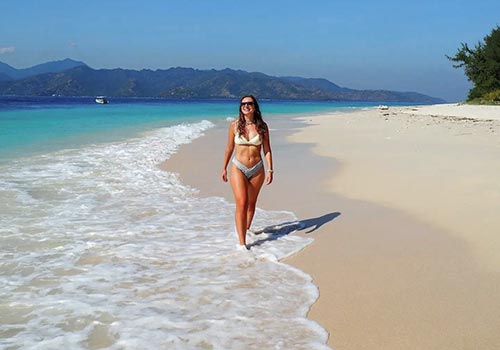 Getting to Gili Meno
There are some recommended ways of getting to the island. Departure point Bali, Lombok, Jakarta, or any city. Here below are the best ways:
Flight from Bali or Jakarta to Lombok, and then get on a taxi or private car to Bangsal. After that get on the local boat for 30 minutes. The flight from Bali is approximately 30 minutes. And land transfers from Lombok Airport including boats from Bangsal are 2 1/2 hours. So you will be in total spending 3 hours from Bali to the island.
Ferry from Padang Bai (Bali) to Lembar in Lombok. You will need to spend about 5 to 6 hours ferry from Padang Bai. After that get on a taxi to Bansal for 2 hours and then get on a local boat for 30 minutes to Gili Meno. So you will spend approximately a total of 8 1/2 hours to get to the island.
Fast Boat from Bali. This kind of transfer is probably much more convenient to get to the island. Choose to depart from Southeast Bali or Northeast Bali. If you go from Southeast Bali such as Sanur, land transfers are about 30 minutes from Kuta and 3 hours by boat. So you will need 3 1/2 hours from Bali to Gili Meno in total. If you go from Padang Bai (Northeast Bali), you will need 1 1/2 hours of land transfer from Kuta. And 1 1/2 hour boat to the island, so you will need in total of 3 hours to get to Gili Meno.
For bookings and details of the Gili fast boat, you can go to the search box on the home page. The Gili fast boat offers two departures a day in peak season and one departure in the low season. The Fast Boats make their first stop in Gili Trawangan and then Gili Meno.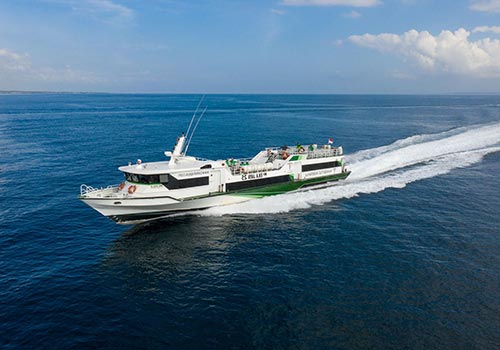 Accommodations and Restaurants
At Gili Meno, you can find many types of accommodations, from backpackers to midrange accommodations. Midrange accommodations are mostly located on the Northwest of the Island. The backpackers are most located just right in the harbor area.
Most designs are huts combined with modern designs. The accommodation is easy to find, however, you need to book in advance to get a better arrangement. Check out for the best rate with your agent or direct to the hotel.
The restaurants are spread around the island. They are serving local and international cuisine. For the best beachside restaurants, you can find them on the Northside of the island.
Best Things to Do on Gili Meno
Gili Meno is famous for turtle points and conservation. There you can find turtle points on the Northside of the island. The island also available beautiful spots for diving.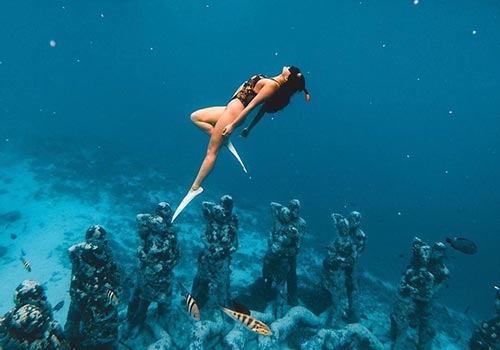 Here are the things you can do on the island:
Scuba diving is probably your best activity if you love diving. You need to have a diving certificate, otherwise, you can take an Open Water Scuba Diving course. The dive site will direct by your divemaster.
Snorkeling and Swimming. These two activities are very recommended to do. You can do snorkeling at turtle point and at Gili Meno statue point.
Visit Salted Lake and Birds Park. You will find many kinds of birds singing on the island.
Cycling around the island for 1 hour. It is also best to do it on the island.
Having sunset is best for your afternoon to spend at the sunset point while having a bottle of beer.
Note: The Island authority does not let you touch the corals and turtles, please follow the rule!