Tanjung Ann Beach
---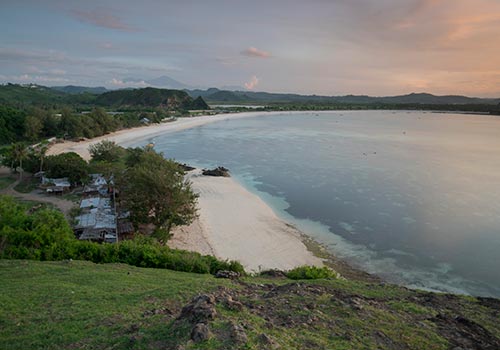 Tanjung Ann beach is located in South Lombok. It is one of the popular white sandy beaches on Lombok Island. The area is not very touristic and still keeps it natural.
The beach is also the best spot for sunset, swimming, and surfing. Just on the right side, you will see the beautiful Merese hill. It is one of the famous hills in the area. Tanjung Ann is in the area of tourist development. There are now some accommodations and restaurants start opening in the area.
Walk along the beach, find some small hill nearby for a photoshoot, and enjoy the sunset. Tanjung Ann is one of the most beautiful destinations tourism in Lombok. This beach looks much more relaxed to spend your day on the beach.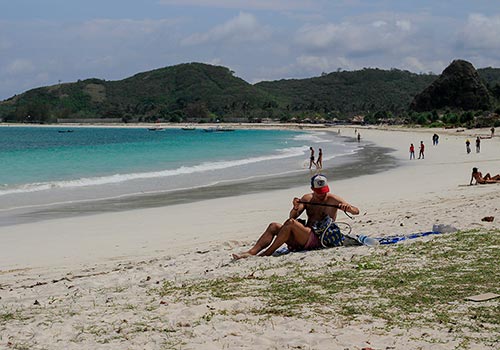 Getting to Tanjung Ann Beach
There are some choices to get to Tanjung Ann Beach. Rent a motorbike, hire a car, and join the Lombok tour packages are the best options. If you stay in the Kuta area, you may prefer to rent a motorbike.
A motorbike is easy for a couple or solo traveler. You can rent a motorbike in Kuta, Senggigi, and Mataram. They are very easy to find, the cost is varied, depending on the kind of motorbike. Each rental service offers an offer at almost the same price for a day's rent.
Hire a car is also a good idea to get there. Some car rental services provide a variety of prices, the same as you rent a motorbike. Most they provide with the driver. If you stay in the Senggigi area, you can look out in some of the tourist information for car rental services, most they provide.
Join Lombok tour packages with reputable agencies. The tour package is including the pick-up from Bangsal if you stay on the Gili islands. You can get on the earlier public boat from the Gili islands. We will meet to pick up you in Bangsal.
The travel agency on Lombok offers a complete day tour which is including tour guides, Hotel transfers, and entrance fees. The tour duration is normally 8 hours, so you will have a lot of things to see besides Tanjung Ann.