Benang Kelambu Waterfall
---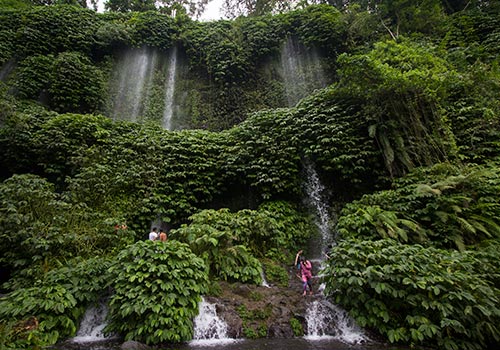 Benang Kelambu waterfall is one of the beautiful waterfalls you have to visit in Lombok. The waterfall is located on the Northside of central Lombok regency, exactly on Otak Kokok Village. It is about a 1-hour drive from Mataram and 1 1/2 from Senggigi.
Benang Kelambu is coming from words Benang and Kelambu. Benang is yarn, while Kelambu is a mosquito net. The waterfall is called Benang Kelambu because the fall is looking like a mosquito net.
Benang Kelambu waterfall is just staying downhill from Mount Rinjani National Park. You will trek through the coffee farm and beautiful rainforest for 1 1/2 hours. You can also get on the Ojek or Motorbike from the parking area.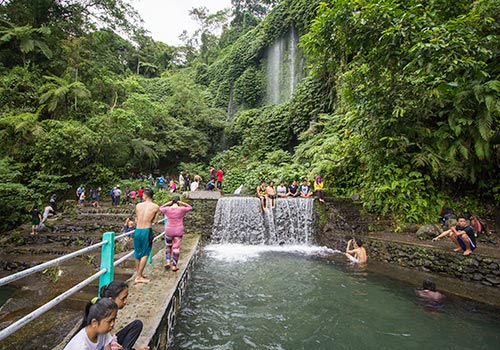 Getting There
There are many ways of getting to Benang Kelambu Waterfall. Here bellow is recommended for you:
Join the day tour
Rent motorbike
Private Car
Join the day tour with some reputable travel agencies. Tour can be better if you want to see some beautiful places, such as Narmada Waterpark, and Batu Bolong temple.
The tour package to Benang Kelambu also covers a visit to Benang Stokel, 3o minutes from the parking area. You need to trek about 1 1/2 hours from the parking area to Benang Kelambu Waterfall. The ticket price is Rp.35.000 per person.
If you need help with the tour to Benang Kelambu, you can contact us through our contact menu. We also arrange any car rental, motorbike, or tour packages to Benang Kelambu.
Beyond Benang Kelambu Waterfall
Benang Kelambu is the most popular waterfall in the North of Central Lombok. It is the most visited waterfall beside Benang Stokel. During the weekend, there are a lot of visitors, especially locals.
There are a lot of interesting places before you get to Benang Kelambu. Rice field and the farm will find along the way to Benang Kelambu. You may make some stops for pictures on the way.
Coffee and banana farm are also the best things you can see on the way. It is best to visit the waterfall in the morning, not so busy. Walking through the tropical forest is an amazing situation.
Restaurant and Accommodation
Restaurants are available before you get into the parking area. You will also find some Warung and small shops in the parking area. Local foods provide here, some fruits, coffee, and tea.
Accommodation is not available around the waterfall, so never expect to stay in the Benang Kelambu area. What you can do if you expect to visit the waterfall, stay in Mataram, Senggigi, or Central Lombok. These are the close places to Benang Kelambu.
As the longest-running online agency, we are providing the information for your best holiday in Lombok. We love to give you any information that deals with your traveling needs. Our best direct boat to Lombok is providing the best value tickets online.