Junggut Batu Harbor Lembongan
---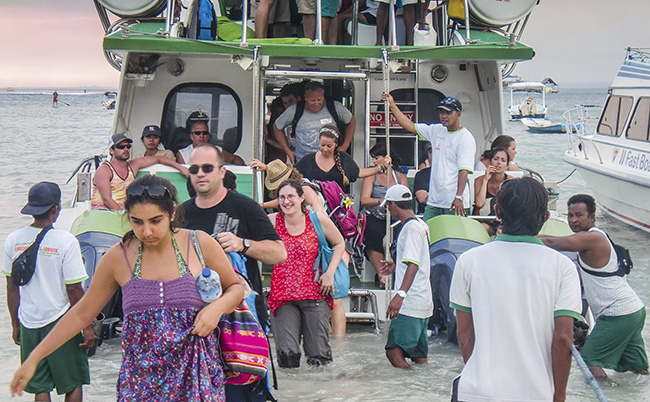 The Junggut Batu harbor Lembongan is the public harbor for boat transfers between Bali and Nusa Lembongan. The harbor is located in Desa Junggut Batu (Junggut Batu Village) Nusa Lembongan.
Junggut Batu harbor is also for boat transfers from Gili Island or Lombok. This public harbor is only 30 minutes from Bali and about 1 ½ to 2 hours from Gili Islands and Lombok.
Most of the fast boats are unloading the passengers here, and their offices officially open just on the beachside. If you have a fast boat ticket to Bali, Gili Islands, and Lombok, you can confirm at their office here.
Getting to Junggut Batu
The best way to get to Junggut Batu harbor Lembongan are:
Getting on a fast boat from Bali takes 30 minutes.
Fast boats from Nusa Penida or from Ceningan Island.
Local boat from Sanur
Fast boats are the only best way to get to Junggut Batu Nusa Lembongan. The local boat is also the other good choice to get there.
You can book a fast boat to Nusa Lembongan through the Gili fast boat search box at home. Choose the destination Junggut Batu, Nusa Lembongan.
The ticket price starts from $25 USD to $35 USD, depending on the boat you choose. The prices are different from each other just because of different boat conditions. Check out more about each fast boat review and then you can decide to book.
In the low tide, the boat may not reach directly to the beach. So you will need to walk a little bit to reach the shore. Crews will help you with your language.
There is also Gili fast boat running from Lembongan to Gili Trawangan, Gili Meno, Gili Air, and Lombok. Fast Boat to Gili islands and Lombok are departing daily in the morning around 10.30 am.
Accommodations at Junggut Batu Harbor Lembongan
There are hotels and bungalows around the harbor. So you do not need to be worried when you get here. Restaurants are also available around the harbor, just find them on the beachside.
On the other side of the harbor, you can also go surfing. The waves are suitable for all surfer's levels. But if you need it the more extreme you can go to Shipwrecks or Laser, the wave height is around 7 feet there.
For the beautiful sight, you can visit Dream Beach which is located about 15 minutes from the harbor. You can also have sunset uphill as well.