Jemeluk Beach Harbor Amed
---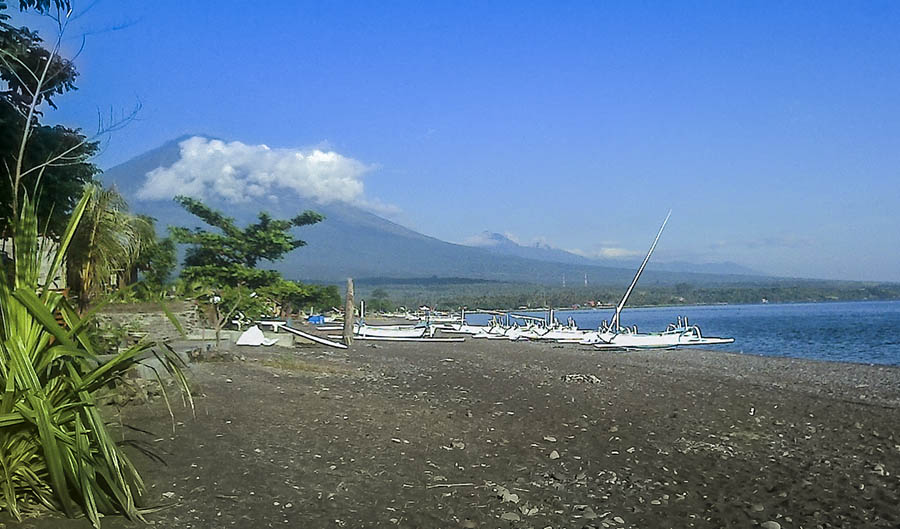 Jemeluk Beach Harbor Amed is a harbor in Amed for fast boat transfers to the Gili Islands and Lombok. This harbor was used by the fisherman boat in Amed.
Over the last few years, the harbor also has had space for fast boat transfers between Amed and Gili islands. The first time was in 2009 when a fast boat found great value to start the daily trip from Amed.
There is no jetty on this harbor. So you will need to step into the water when you want to get on or off the boat.
Getting to Jemeluk Beach Harbor Amed
Getting to Jemeluk Beach harbor Amed is not difficult, you can rent a car or motorbike to get there. All fast boat operators provide free hotel transfers from Amed areas. You can request a free shuttle from the boat operator for an easy ride to the port.
Jemeluk Beach harbor is far away from Kuta or Legian, it takes about 4 hours. So when you stay in Kuta or Legian, we recommend taking a fast boat from Padang Bai or Sanur.
The fast boat from Jemeluk Beach Amed to Gili Islands and Lombok offers a daily trip in the morning. In peak season they can operate the schedule in the afternoon.
The fast boat to Gili and Lombok took about 45 minutes in flat sea conditions. And 1 ½ hours on the rough sea conditions. To book the boat from Amed to Gili Islands and Lombok you can find a reputable online agency.
Gili Best Deal offers the best price for the fast boat Amed to Gili. We are an online booking agency that has operated for more than 10 years.
The fast boat from Amed to Gili Trawangan, Gili Air, Lombok and Gili Meno is the best option to take. Book in advance to get a seat on the Gili fast boat from Jemeluk Beach harbor Amed.
At the moment we only serve tickets for Free Bird Express and Kuda Hitam Express from Amed. Both of these fast boat operators are reliable fast boat operators. Kuda Hitam Express has operated since 2009. The boat provides international standard safety.
Accommodation Around Jemeluk Beach Harbor
Accommodations and restaurants are easy to find around Amed. They range from backpackers to mid-range hotels and some from bungalows.
Restaurants, cafes, and bars are available here. So it is not that difficult to find your accommodation or restaurant in Amed. The restaurants serve western and local foods. You can also find some great seafood here. Most are coming fresh.