Gili Air Harbor Lombok Indonesia
---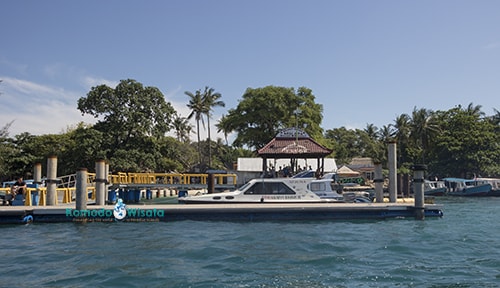 Gili Air harbor Lombok Indonesia is located on the main public port on Gili Air. It is exactly in front of the Ocean Five Dive Center. This port is the main port for any sea activities such as local boat transfer from Lombok.
The island has become one of the main tourism businesses in the North Lombok Regency. Fast boats from Bali and Lombok are coming straight to the island. They can bring more than 100 visitors per day.
The harbor activities have been very busy in the last few years for whole day activities. The number of visitors is rapidly increasing every year.
Getting to Gili Air Harbor Lombok Indonesia
Here are the ways to get to Gili Air harbor Lombok Indonesia:
If you stay on Gili Air, take a horse cart (Cidomo), bicycle, or walk on foot from your hotel.
If you are on Gili Meno and Gili Trawangan, you can get on a local boat to get to the harbor.
Local boats and speed boats from Lombok are available at any time until 05.00 pm.
Fast boat from Bali to Gili Air.
Getting to Gili Air by fast boat will take about 1 ½ hour from Padang Bai and 3 hours from Sanur. The local boat ride from Bangsal, Lombok to Gili Air takes 25 minutes.
If you get on the speed boat, it takes less than 10 minutes from Bangsal. Teluk Nare can take about 10 minutes.
Remember that not all fast boat operators are not providing free transfers on Gili Air. So you have to come by yourself to the port.
Accommodations around Gili Air Harbor
Accommodations near Gili Air harbor are available like Ocean five bungalow, 7 seas bungalow, and villa Karang. These accommodations are close to the port. So it is easy to reach the port on foot if you stay around here.
Always show your ticket to the right fast boat operator. Read your ticket and see the fast boat operator's names on your ticket. This is to avoid people who are trying to scam you and asking you to buy another ticket.
Contacts are on top of your ticket, both our operators and ours. So don't need to hurry, ask us if you find a problem. Talk directly to the boat operator on the beach if it's not really clear.
Most fast boats have no office on Gili Air so you have to wait for the boat to come. You need to check in directly with the boat staff.
The Harbor is always busy in the morning and afternoon as well for the activities. So you need to wait until the boat operator staff finishes uploading passengers.
For more information, please check on your Gili Fast Boat tickets. And for bookings, go to the search box and find the best price you want.