Buyuk Harbor, Nusa Penida Island
---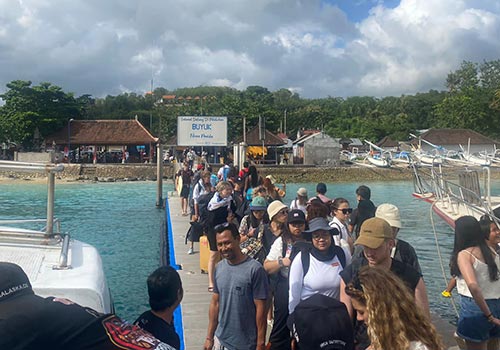 Buyuk harbor is a harbor located in northeast Nusa Penida Island, Bali Indonesia. It is one of the harbors where you can get a boat to Gili, Lombok, and Bali. The fast boat from Nusa Penida to Gili islands and Lombok departs daily in the morning from this harbor.
There are numerous fast ferries to Bali, Gili Islands, and Lombok. The fast boat from Buyuk to Bali offers more than one daily schedule. Meanwhile, the fast boat to Gili and Lombok has only one daily schedule.
For those who plan to get on the fast boat to Gili, Buyuk harbor is one of the best recommended. Not so ferry busy, depending on the season you visit. The harbor is also surrounded by beautiful white sand beaches.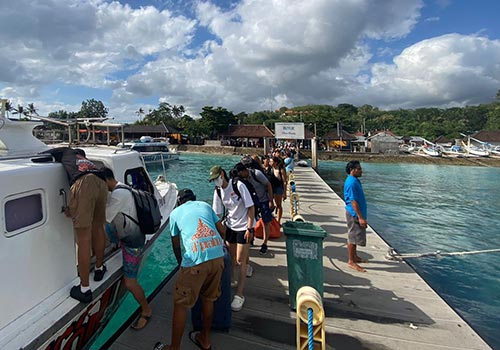 Getting to Buyuk Harbor Nusa Penida Island
If you are in Nusa Penida, you can get on a private car or motorbike to get to the harbor. Meanwhile, if you are on Bali, Lombok, or Gili islands, you can get on a fast boat. The fast boat offers daily departure with more than one schedule from Bali.
The fast boat From Bali to Buyuk harbor will take about 30 minutes from Sanur. And if you are on Gili Islands or Lombok, it takes approximately 2 hours to get to Buyuk harbor. The D'Prabu Fast Boat is a fast boat that landed at Buyuk harbor.
The fast boat ticket cost from Gili or Lomok is approximately $32 per person. Meanwhile, the ticket price from Buyuk Nusa Penida to Bali is $11 per person. The cost is depending on the season you are traveling or the boat services.
Restaurants and Accommodations
Accommodations are spread around the harbor. There are many varieties, from homestays to bungalows, and hotels. And the restaurants are also found near the harbor. You can try to find both, local and western restaurants.
Small shopping Kios are found around the harbor areas. It provides daily needs such as mineral water, snacks, and many more.
Warungs are also found near the harbor. For those who want to try Indonesian Nasi Bungkus, this area is also available Warungs to get them.