Benoa Harbor Southeast Bali
---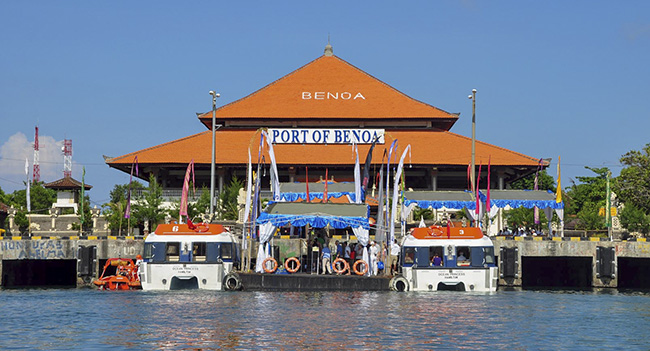 Benoa harbor is the exclusive port on South East Bali. The most activities on this harbor are Cruise Ship loading, Fast Boat, and many more. The location of this harbor is close to the main tourist areas in Bali, such as Nusa Dua and Kuta area.
Benoa is the most recommended harbor for departure points to Lembongan, Lombok, and Gili islands. It is very clean and much more exclusive compared to the others.
It is a perfect point If you stay in the South Bali areas like Kuta, Legian, Nusa Dua, Jimbaran, etc. The harbor is just about 25 minutes from the Kuta area.
Getting to Benoa Harbor
If you stay in the South Bali area, you will need approximately 30 minutes to get to Benoa Harbor. There are some transfers you can use to get to Benoa such as the following:
A private car from your hotel or taxi.
Join free hotel transfers from boat operators
Fast Boat from Lombok, Nusa Lembongan, and Gili islands.
Our free hotel transfers are provided by the fast boat operator. You will get free hotel transfers when you book your fast boat online with us.
Fast boat from Gili Islands and Lombok also offer free hotel transfers from Benoa to your hotel in Bali. Most transfers are to the South Bali area, and if you stay in Ubud, you will pay the extra cost.
Fast Boat from Benoa to Gili Islands and Lombok
Patagonia Xpress is the only fast boat running from Benoa to Gili Trawangan, Gili Air, and Lombok. The boats are running one time a day with their schedule at 08.30 Am, departing daily from Lombok and Gili Islands. , see Patagonia Xpress for details on schedules and boat conditions.
The fast boat ride from Benoa to Gili islands and Lombok takes 2 1/2 hours to 3 hours. Depending on the sea conditions at the time.
Getting to Benoa is not that difficult. Fast Boat to Gili operators offers free hotel transfers from your hotel in Bali, especially for the South Bali area. so what you need to do is when you are on the booking form, you can fill out your hotel details. Otherwise, if you decide to come by yourself, please make sure you know exactly where the harbor is.
Benoa harbor is also used for cruise ships from around the world, this is the thing that makes this harbor become one of the exclusive ports on Bali Island.
Book a Gili fast boat from Benoa to Gili, Benoa to Lombok, and you can go through it online with us. We are always running a special offer for tickets one way or another. Use the search box to book your ticket from Benoa to Gili and Lombok.