Wahana Gili Ocean Fast Boat
---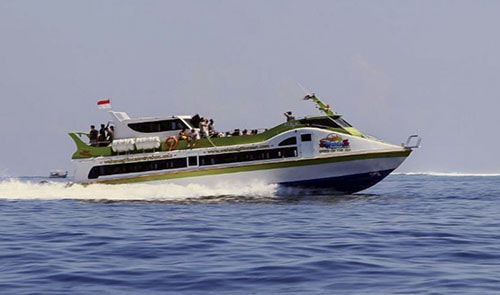 Wahana Gili Ocean fast Boat is totally under local management, the company has been running since 2010 with the boat capacity 32 passengers at the first, then, in addition, they introducing a boat with capacity 60 passengers. In 2016 Wahana Gili Ocean start running their new boats with the capacity 180 and 116 passengers until now. These two luxury boats are running from Bali (Padang Bai) to Lombok(Bangsal), Gili Air and Gili Trawangan with two daily schedules.
Wahana Gili Ocean has run the afternoon boat from Padang Bali to Gili Islands and Lombok with these two new largest capacity boat. The boats are complete with international standard safety and run at maximum 45 knots per hour. See the boat schedule below for details departures.
Service Including within the Price
The service is including with the free hotel transfers (Pick Up and drop) in South Bali (Kuta, Seminyak, Legian, Jimbaran Macdonald, BTDC Nusa Dua, Sanur and Coco Mart Udud, other areas like Uluwatu, Canggu and Candidasa will need to pay extra IDR 250.000/car. When you travel with Wahana Gili Ocean, you can be on both of these boats. The travel time on the boat approximately 1 1⁄2 hours, it can be more, depending on the sea condition. Wahana Gili Ocean has a good reputation during the years they run the company, they have been trying to reduce the complaint and trying to set up a great service.
Boat Specifications
Capacity: 180 Seats, cruising speed: 40knots, Engine: 6x250HP Honda Engine
Safety Equipment: Life Raft: 2 Unit x 35, Life rings x2, Fire Extinguishers: 3 units, First Aid Kit.
Navigation and Facility: GPS Plotter, ICOM VHK Radio, Sundeck up to 20 people, Toilet, DVD Player
On Lombok Island Wahana Gili Ocean make it stop at Bangsal, the public harbor located on the North Lombok, about 30 minutes drive from Senggigi or Mataram. They have provided the good jetty facility with an office for checking in at the nearest jetty.
Bangsal is a popular harbor for local boat crossing between Gili Islands and Lombok. When you get to Bangsal, please make sure you go directly to the Wahana Gili Ocean Fast Boat office for checking in and for Bali drop off, please make sure you have your hotel transfers waiting for you or you may be can use our extra hotel transfers with the price listed on the booking form.
If you go to Sembalun or Senaru for a trekking purpose, you will need 1 1/2 hours to 2 hours to get there by car. make sure the car or transport where you book your trekking on the harbor and waiting for you, otherwise you may use our extra service for drop off or hotel pick up in Sembalun and Senaru.
For the Gili Islands drop off and checking in, Wahana Gili Ocean has an office each Island. In Gili Trawangan, you may reach their office at next door Sama Sama Bar, it is on public harbor area and in Gili Air, you can reach the office in front of Ocean 5 Dive center, it is right at the public harbor in Gili Air. If you book Fast Boat to Gili on Wahana Gili Ocean, there will be always the choice of schedules, as they run two times a day, in the morning and afternoon.
Wahana Gili Ocean Fast Boat Schedules 2017-2018
Departure Point
Departure Time
Arrival Time
Destination Port
Approx Duration
Baggage Allowence
Ticket Price
Padang Bai

09.00

25kg/person
$27
Gili T
10.30

Gili Air
Bangsal
Padang Bai

25kg/person
$27
Gili Air
10.40
25kg/person
$27
Bangsal
11.30
25kg/person
$30
Padang Bai
13.00
25kg/person
$27
Gili T
14.30

Gili Air
Bangsal
Padang Bai

25kg/person
$30
Gili Air
15.00
25kg/person
$30
Bangsal
15.30
25kg/person
$30
Note:
The estimate time of travel can be more or less and boat circumtance may be change as well, depending on the sea condition and passengers uploading in each port. And the pick up service may be sometime little bit late, due to the sharing car.
Bansal is the main harbor in Lombok