Maruti Duta Express
---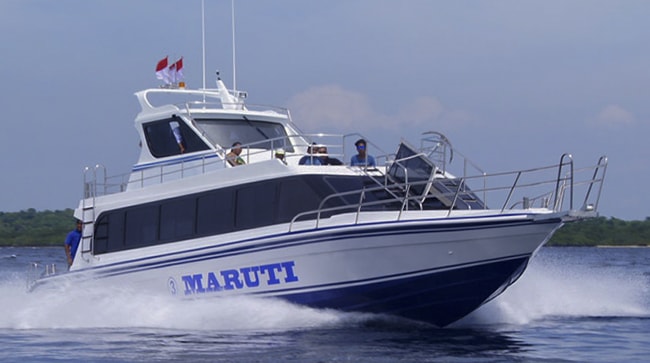 Maruti Duta Express is the comfortable fast boat running from Sanur to Nusa Penida. The company offers 4 times daily departures from Bali to Nusa Penida and Nusa Penida to Bali.
The boat trip from Sanur to Nusa Penida is about 30 minutes in the flat sea condition. It may take more in the rough sea condition.
Getting on Maruti Express is the best option to get to Nusa Penida from Bali. The boat has a proven track record since they established.
To get on Maruti Duta Express, you need to make a booking in advance, at least one day before.
Maruti Express boat also offers 4 times departure from Nusa Penida. The earlier departure is at 07.30am, and the latest is at 04.30pm.
The Boat Destination
At the moment Maruti express offer the daily departure from/to Bali with the following destinations:
Sanur Beach, Bali
Toyapake harbor in Nusa Penida
Nusa Lembongan
To see the detail schedules and prices, you can go to the search box at the home page. Prices quota are seasonal.
Maruti Duta Express Services
The Maruti Express departs daily from Southeast Bali, exactly from Sanur beach. They provide the best boat transfers, managing the schedule, and operate well hotel transfers in Bali.
Here are the services they offer:
Comfortable boat transfers
Free hotel transfers in Bali
Mineral Water on Board
Cruise Director
The boat Maruti Duta Express does not provide the free hotel transfers in Nusa Penida. So you can arrange your own hotel transfers in Nusa Penida or you can arrange through Maruti Express.
Boat Specification, Navigation, and Facilities
The following are the details of Maruti fast boat specifications, navigation, and facilities.
Boat Specifications:
Engine: 5x250hp Yamaha
Speed: 30 knots
Length:
Width:
Depth:
Navigation and safety equipment:
Marine Radio communication
Fire Extinguisher
EFIRD
Fire Pump
2 unit life rings
GPS
Map Plotter
Radar 18 miles
Sonar Deep Sounder
Life jackets: 80 pcs
3 x 25 life raft
Facilities:
First Aid Box
Toilet
Cruise Director
Aircraft seating
Top Deck open seats
Nusa Penida is an Indonesia recommended tourist destination. Most of the travelers spend their times at minimum 2 days on the island. Click on Nusa Penida to see more about the island activity.