Maruti Duta Express
---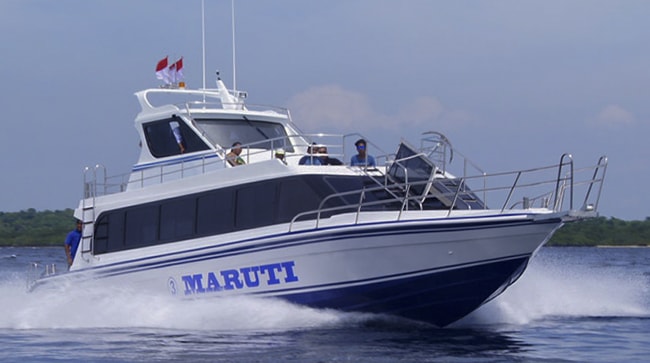 Maruti Duta Express is the only fast boat running from Sanur to Nusa Penida at the moment, the company offer two daily schedules from Bali to Nusa Penida and Nusa Penida to Bali, inclusive free hotel transfers in Bali for the areas Kuta, Sanur, and Seminyak. The boat trip from Sanur to Nusa Penida is about 45 minutes, in the flat sea condition it may take less than that.
When you decided to spend your days on Nusa Penida, what you need to do is always make sure you arrange the fast boat transfers from Bali to Nusa Penida on Maruti Duta Express at least one day before you do the trip, that is mean you have to make a fast boat booking before the trip.
Nusa Penida is a very special destination for the most travelers at the moment. When you are in Bali there is a lot of choice for your daily activity and there is listed Nusa Penida on it, the Island which stays on the Southeast Bali. Lot of beautiful places to visit on the Island, there are Broken Beach, Kelingking Beach, Raja Lima and many more beautiful places on the Island.
There are many ways getting to Nusa Penida, the most preferred is getting on the fast boat from Sanur Beach, this is a much convenience, another way you can use is a ferry from Padang Bai, but you need to drive for 1 1/2 hours to Padang Bai and getting on the ferry to Nusa Penida.
The boat Maruti Duta Express offer a comfortable trip which is a daily departure from Sanur Beach. To get the tickets on Fast Boat to Nusa Penida you can go to the search box, select your trip from Bali to Nusa Penida and then choose the time you want.
Take a fast boat Bali to Nusa Penida is an easy way and a much recommended for your trip to Nusa Penida. Maruti Duta Express is the only boat running from Sanur to Nusa Penida at the moment. As there is no jetty in Sanur yet so the boat will land on the Sanur Beach, so you need to put off your flip before getting on the boat. You will be arriving at Toyapakeh harbor in Nusa Penida.
Gilibestdeal.com is the only agency which is working directly with the Maruti Duta Express boat operators offer the special discount for the boat tickets from Bali to Nusa Penida. Check the price list on through the search box and schedules of departures, book in advance to get a space on the boat.
Boat Specification and Facilities:
Engine: 5x250hp Yamaha
Speed: 30 knots
Life Jackets: 80 pc
3x25 life raft
2 set flare
EFIRD
Fire Extinguisher
Marine Radio Communication
Fire Pump
First Aid Box
2 unit life rings
Navigation Equipment
GPS, Map Plotter, Radar 18 miles and Sonar Deep Sounder
Toilet
Cruise Director
Aircraft seating, Top Deck open seats
Maruti Duta Express Schedules 2017-2018:
| | | | | | | |
| --- | --- | --- | --- | --- | --- | --- |
| Departure Point | Departure Time | Arrival Time | Destination Port | Approx Duration | Baggage Allowance | Tickets Price |
| Sanur | | | Totapakeh-Nusa Penida | 45 min | 25kg/person | $25 |
| Toyapakeh | | | Sanur | 45min | 25kg/person | $25 |