Elrey Junior Fast Cruise
---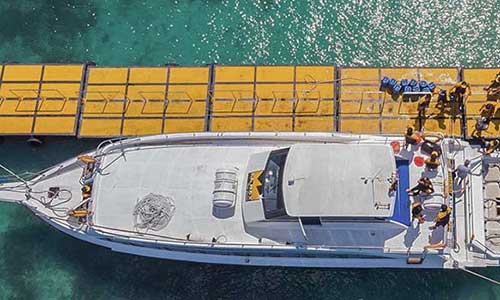 Elrey Junior Fast Cruise offers daily trips from Sanur to Nusa Penida. Fast Boat Bali to Nusa Penida is the only best way to reach the Island. Elrey Junior Fast Cruise can accommodate 110 passengers. It is a brand new premium fast boat from Bali.
Nusa Penida, the island of Paradise in Southeast Bali offers an amazing tourist destination. It is a worthwhile island to visit, with natural and beautiful beaches. A very different situation compared to mainland Bali.
The transfer from Bali to Nusa Penida is by fast boat. You can enjoy the 30-minute crossing from Sanur beach on Elrey Junior fast boat.
Elrey Junior Fast Cruise Schedules
The boat Elrey Junior offers 3 times departure from Sanur Beach Harbor. The first departure is in the morning and then their last departure is in the afternoon. Below are the departure times for Elrey Junior fast boat:
Departure From Sanur:
Depart 1: 08.00am
Depart 2: 10.45 am
Depart 3: 03.00pm
Elrey Junior Fast boat offers free hotel transfers in some specific areas in Bali such as the following:
Sanur
Kuta and Legian
Seminyak
Kerobokan
Jimbaran McDonald
Central Ubud
If you stay outside of the areas mentioned, you need to pay extra costs or arrange your own way. Elrey Junior Fast boat always tries to give you the best with their premium fast boat transfers.
Departure from Nusa Penida:
First Departure: 09.15 am
Second Departure: 02.15pm
Third Departure: 05.00 pm
Note that the schedules sometimes change, depending on the weather conditions. Elrey will let you know if there is any change with your trip.
Boat Specifications
Here are the boat specifications:
Speed: 35 to 45 knots
Engines: 5 x 300hp Suzuki
Sundeck
100 recleaning seats
Safety Equipment:
100 adults life jackets
25 life jackets for infants
First aid kit box
VHF Radio
GPS
5 units of life rings
2 units of life raft
6 fire extinguishers
Note: The travel times from Sanur to Nusa Penida are depending on the sea condition.