D'camel Fast Ferry
---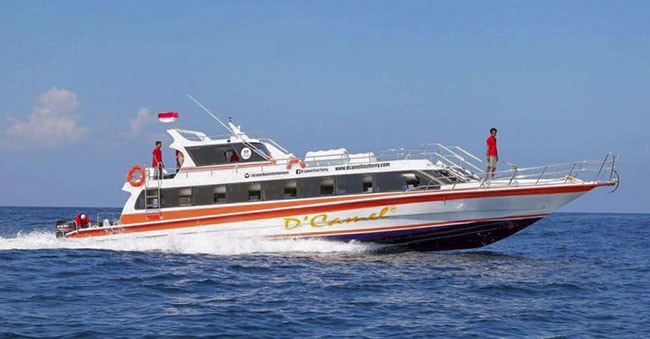 D'camel Fast Ferry offers daily transfers from Bali to Nusa Lembongan. The boat departs from Sanur beach in Southeast Bali. It is a perfect choice if you stay in Kuta, Legian, Sanur, Nusa Dua, and more south Bali areas.
The D'camel fast ferry offers 3 departures from Bali to Nusa Lembongan. The early boat is at 09.30 am, the second is at 14.00, and the third is at 17.00.
A new luxury boat with a capacity of 80 passengers can reach Nusa Lembongan in 30 minutes. The boat is equipped with international standard safety equipment.
D'camel Fast Ferry Services
The boat transfer includes free hotel transfers from/to some specific areas in Bali and Nusa Lembongan.
Most hotel transfers are provided in South Bali to the following areas:
Kuta
Legian
Seminyak
Sanur
Nusa Dua
MacDonald Jimbaran
On Nusa Lembongan, D'camel Fast Ferry will pick you up and drop you off at your accommodation.
On-Board Services:
Free mineral water
Fresh towel
If you stay in Ubud you may need to pay extra to get to Sanur. Extra transfer prices are listed on the booking form. The extra cost price is the variety of each location, depending on the distance of the location.
If you decide to come by yourself, please make sure you know the details of where to go. You need to be there 30 minutes before the departure time.
We also offer a private boat charter from Sanur to Nusa Lembongan. If you want to do the charter boat, you can contact us directly by e-mail.
Boat Specification:
Engine 5x250H Suzuki four-stroke
Mono Hull
Seats 80
Life Craft 2x40
80 Unit Life Jackets
Fire Extinguisher
Facilities:
Upper Deck
Toilet
Reclining seats
To book and see the schedules of the fast boat to Nusa Lembongan, go to the search box on the home page.
Note: The change in schedules is under the responsibility of D'camel Fast Ferry.