D'Camel Fast Ferry
---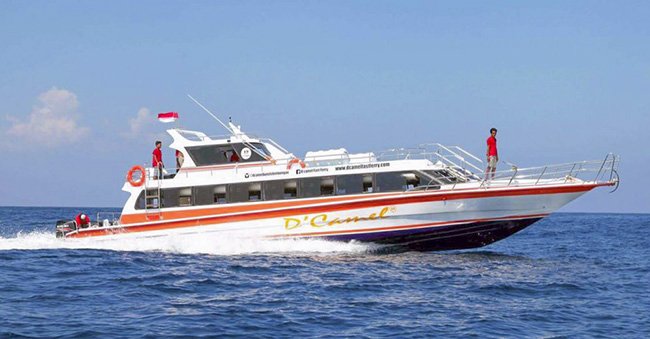 This boat operator has offer the smooth way to get into one of the tropical Island which is sweep away in South East Bali, D'Camel with their new luxury boat has been running couple years and been one of favorite choice for boat transfers from Bali to Nusa Lembongan. The boat with the capacity 80 passengers spends only 30 minutes to get to Nusa Lembongan, the boat also has standard safety equipment like fire extinguisher, life Jackets, life craft and powered with outboard Suzuki engine 250 hp each, on the boat also have a toilet.
The boat transfer is including with free hotel transfers from/to some specific areas in Bali and Nusa Lembongan. To book the D'Camel fast ferry you need to arrange or make a booking at least 2 days before the departure, fill out your details contact, hotels, etc on the booking form we provide, the boat voucher will send to your e-mail and use this voucher when you are checking in at the office. If you decide to come by yourself to the harbor, please make sure you know where the office is and have to be there 30 minutes before the departure time.
D'Camel fast ferry offers three times departure every day from Sanur Beach to Nusa Lembongna and from Nusa Lembongan to Sanur, the morning schedule from Bali is at 09.30 AM, and afternoon boat is at 02.00 PM and 05.00 PM and from Nusa Lembongan the boat departure little bit early, with the morning schedule 08.30 AM, mid day at 12.30 PM and afternoon at 04.00 PM. The schedules are mandatory by D'Camel fast boat and can be change due to the weather forecast sometimes.
Gilibestdeal.com as an agency offer two types of trip, one is regular trip as the departure schedule listed and the second is private or boat charter. When you want to do charter boat what you need to do is contact us direct by e-mail or call to the phone number we provide on the right to of this site. Discount always available for group booking or private charter.
We always wish the best for you and wish you have a great day on Nusa Lembongan Island, see you there!