Arthamas Express, Bali to Lembongan
---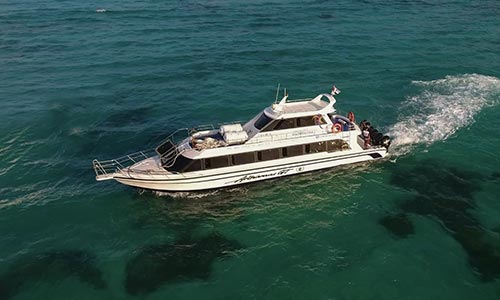 Arthamas Express offers comfortable boat transfers from Bali to Nusa Lembongan. It offers a daily departure with more than one daily schedule from Sanur beach.
Nusa Lembongan is one of the popular tourist destinations located in the southeast of Bali island. This small island offers a range of holiday activities to do. Diving, Surfing, snorkeling, and scenic sea views made this island a must-listed on your travel plan. You will also enjoy some beautiful white sand beaches on the island.
Sanur beach is a harbor located in southeast Bali. The Sanur harbor is 20 to 30 minutes from Kuta and Legian. Sanur harbor is the main harbor for a fast boat from Bali to Nusa Lembongan and Nusa Penida. For those who plan to visit Nusa Lembongan, Sanur is the best choice.
Join the Arthamas fast boat trip from Bali will accommodate whole your perfect trip to Nusa Lembongan. You will enjoy a transfer of a 30 minutes ride with safety and comfortable boat. Arthamas also accommodates hotel transfers in Bali and Nusa Lembongan.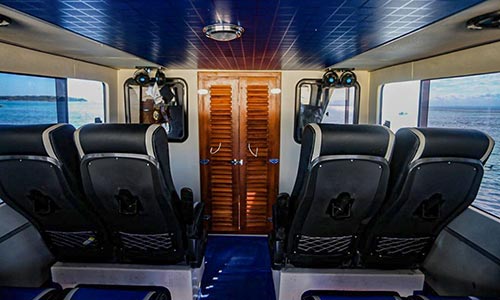 Visit Lembongan with Arthamas Express from Bali
Arthamas Bali fast boat promises you safety, comfort, and in-time schedule port to port. Join this fast boat to Nusa Lembongan will have all advantages it offered.
The boat Arthamas also provides a professional office team to support your perfect trip from Bali to Lembongan. A well-trained support team will make your boat trip a successful ride to the destination.
On Gilibestdeal.com you are able to make an advance online reservation for Arthamas boat express. It is due to the boat's availability which promises to serve the first come. We are connected directly to the boat operator who provides live seat availability.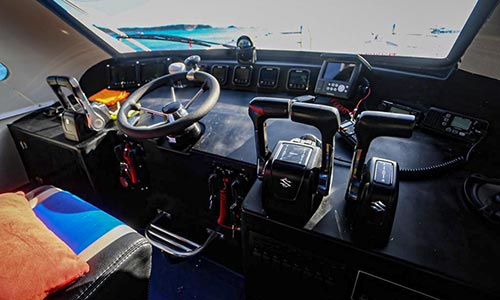 How Long Does Boat Take to Lembongan?
The estimated travel time of a fast boat from Bali to Nusa Lembongan is approximately 30 minutes. This is an estimated travel time when the sea condition is flat or no waves. However, it can be spent more time during the rough sea condition.
In Bali, the transfer to Nusa Lembongan is managed early in the morning. If your boat ticket includes the hotel pick up, it will manage to start at 06.30 am. This pick-up will available for the Kuta area. So you will spend in total one hour from your hotel in Bali to Nusa Lembongan.
On Nusa Lembongan, you will also manage to drive to your hotel. The total spend is depending on the distance of your hotel location in Nusa Lembongan. It usually spend 15 to 20 minutes to get to your hotel by car.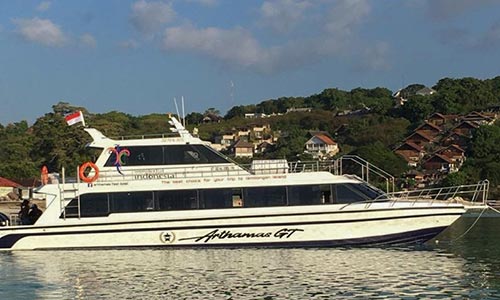 Fast Boat Arthamas Schedules and Prices
Arthamas Fast boat offers 3 daily departures, both from Bali and Nusa Lembongan. So you can choose to depart at your suitable time. The early departure from Sanur is at 09.15 am and the last departure is at 17.15.
The following are details schedules of the Arthamas Express boat:
Departure from Sanur, Bali to Nusa Lembongan: 09.15 am, 14.30, 17.15
Departure from Nusa Lembongan to Bali: 08.15 am, 13.00, 16.15
Ticket prices per Person:
Adult (One Way): US$26, Return: US$52
Children 3-12 yo (One Way): US$26, Return: US$52
Infant (0-3 years old): Free of charge
Boat Specification and Facilities
Boat capacity: 100 passengers
Speed: 30 knots
Engine: 4 engines 250hp
Life Raft: 2 with a capacity of 65 each
Ring Bouy: 4 pcs
Length: 16,25m
Width: 3,50m
Life jackets: 100
Note: If you have any questions about this boat, please contact us!