The Best Way to Get to Gili Islands from Lombok
---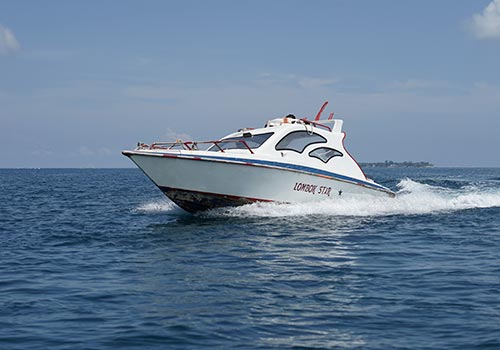 Gili Islands are consist of Gili Trawangan, Meno, and Gili Air. These islands are located in north Lombok and are the most popular tourist destinations. On this page, you will find the best way to get to the Gili islands from Lombok.
Boat trips from Lombok to Gili offer daily departure with more than one schedule. You can choose to depart from Teluk Nare, Bangsal, and Senggigi. Public and private boat transfers are available for your Gili Island transfers.
Teluk Nare harbor is located in north Lombok, it is about 25 minutes drive from Senggigi. Most activities in this harbor are private speed boat transfers from Lombok to Gili islands. Besides that, the harbor is also used for material uploading processes to Gili.
Bangsal is a public harbor located in north Lombok. It is a main public harbor to get to Gili Islands. From Bangsal, you can get on the public boat to Gili Air, Meno, and Gili Trawangan. A harbor is also a place where you can get on a speed boat to Gili and a fast boat to Bali.
Senggigi Beach is a harbor where you can get on a speed boat from Lombok to Gili. It will take about 20 minutes from Senggigi to get to Gili Trawangan. The boat trip to Gili islands from Senggigi is based on a private charter.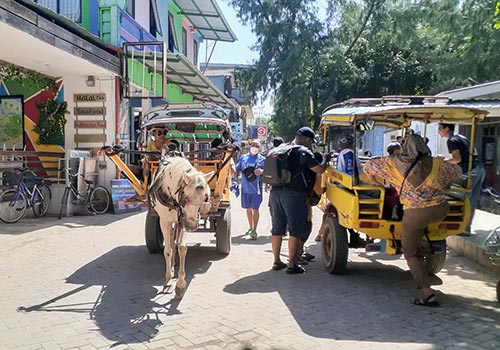 What is the Best Way to Get to Gili Islands from Lombok?
Gili Islands are small islands located separately from mainland Lombok. The only best way to the Gili islands is by boat from Lombok or from Bali. It will take a couple of minutes from Lombok to Gilli Islands, both by public or speedboat.
For your best travel experience from Lombok to Gili Islands, this page will recommend the best boat transfers. You can choose to go on one of the recommendations that suit your holiday planning.
The following are the best boat transfers to Gili Islands:
Speed boat from Teluk Nare, Bangsal and Senggigi. The speed boat to Gili from Lombok is based on private service. You will rent a whole boat with a capacity of 5 to 10 people. in one high-speed boat.
Public boat tranfers from Bangsal to Gili Trawangan, Gili Air, and Meno island. The public boat to Gili Islands departs every day. The office is open from 07.00 am to 17.00 and the boat will leave where there are 20 people on the boat.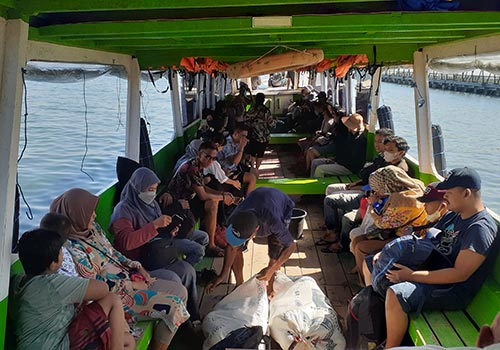 Estimate Trip Duration from Lombok to Gili Islands
| | | | | |
| --- | --- | --- | --- | --- |
| Harbor | Destinations | Boat Types | Trip Duration | Prices |
| Teluk Nare | Gili Trawangan | Speed Boat | 10 min | $15/pax |
| Teluk Nare | Gili Air | Speed Boat | 7 min | $13/pax |
| Teluk Nare | Gili Meno | Speed Boat | 8 min | $15/pax |
| Bangsal | Gili Trawangan | Public Boat | 30 min | $2/pax |
| Bangsal | Gili Meno | Public Boat | 25 min | $1,5/pax |
| Bangsal | Gili Air | Public Boat | 20min | $1,2/pax |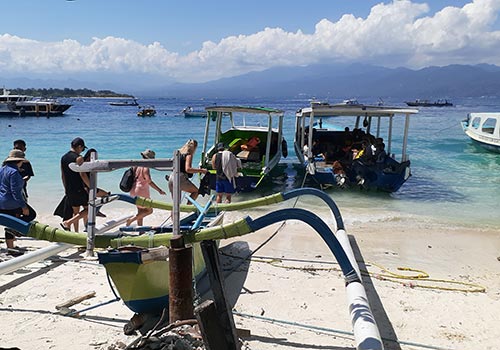 Where to buy the boat ticket to Gili Islands?
If you decided to go on a public boat from Bangsal, you can buy the ticket at the Karya Bahari office. Karya Bahari is a public ticketing office for a public boat to Gili from Bangsal harbor. The ticket price is IDR20.000 for Gili Trawangan, IDR15.000 to Gili Air, and IDR12.000 to Gili Air.
A private speed boat ticket from Lombok can buy online. For a great deal, you can check through the home page search box. There are details of the speed boats from Lombok to Gili, schedules, and prices.
It is also the same way if you are on Gili, you can make an online booking. You can also reach the office ticket on the Gili islands for public boat transfers. Gili best deal is also the best online ticketing agency for a speed boat to Gili Islands.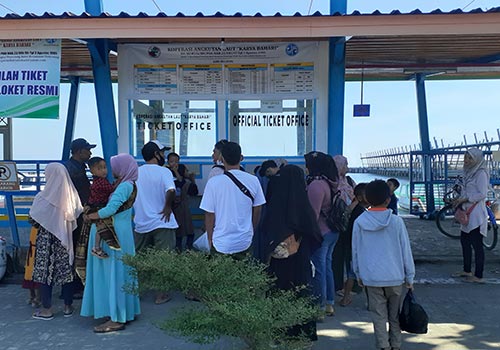 Is the boat offer free hotel transfer in Lombok?
No, there are no hotel transfers provided. All you need to do is book your own transfers from the hotel to the harbor in Lombok. However, the speed boat operators will also provide hotel transfers with an additional charge.
The hotel pick-up or drop-off price in Lombok are depending on the location of your hotel. If you stay in the Senggigi area, you will pay approximately IDR 150.000 per car. But if you stay in Kuta, you will need to pay IDR 400.000 per car.
On Gili islands, there will no hotel tranfers provide. You will need to arrange your own transport to or from your hotel on the Gili islands. The main transportation on the island of Gili is Cidomo or horse cart. The cost of a Cidomo is approximately IDR 50.000 to IDR 200.000 per Cidomo. It depends on the distance of your hotel to the harbor.
If you need any help arranging the hotel transportation, you can also ask our team. We will be happy to help you arrange the hotel transfers, especially on Lombok Island. We accommodate hotel transfers for the Senggigi area, Mataram, Kuta, Airport, and Lembar harbor.