10 Best Nusa Penida Activities
---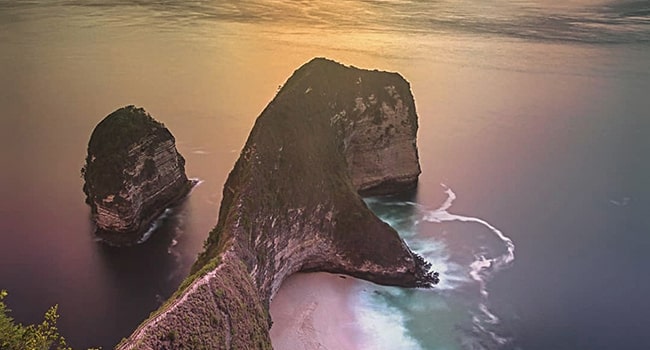 The 10 best Nusa Penida activities are very recommended for your Nusa Penida trip. We select only the best activities which are suitable for your travel budget. Most activities are day tours, depart from Bali or Nusa Penida.
The 10 Best Activities
Here below are the 10 best Nusa Penida activities:
Snorkeling at Manta Bay. Nusa Penida offers great underwater marine life. You will able to visit the snorkeling spots with the glass-bottom boat. Visit the place where Mantas are living.
Visit Cristal Bay Beach. Enjoy the white sandy beaches, swimming and snorkeling. Enjoy the crystal clear water.
Snorkeling at Toyapakeh. This is the awsome snorkeling spot, but be careful with the strong current.
Broken Beach is the incredible cove in the Nusa Penida. That cove is the highlight of this visit. Water comes and goes through the cove. There is the arch that forms many years.
Visit Kelingking Beach. Enjoy the sea breeze and the rock formation which looks like a dragon head. The breaks are strong here, so it is not recommended for a swim.
Nusa Penida treehouse is the best viewing, taking pictures. The house is up the tree. Here you will enjoy the view of Atuh beach and thousands island.
Enjoy the view at Diamond Beach. It one of a great viewpoint in Nusa Penida.
Teletubbies Hill is the best landscape view on the island. There are valleys and canyons in this valley.
Gamat Bay is a snorkeling point. Enjoy the crystal clear water and the blue ocean view.
The Thousands islands viewpoint. It offers an incredible viewpoint.
Fast Boat Bali to Nusa Penida
The fast boat Bali to Nusa Penida is the only best way to reach the island. Fast boat from Bali offers more than 4 times in a day. They are leaving from 3 main harbors in Bali such as Sanur, Serangan, and Benoa.
Nusa Penida is approximately 30 to 45 minutes from Sanur beach. The fast boat offers a daily departure from Bali. They also offer free hotel transfers in Bali for specific areas.
Here are some fast ferries to Nusa Penida:
Mola Mola Express departure from Sanur beach.
Maruti Duta Express offers a daily departure from Sanur.
Elrey Junior Fast Cruise offers a daily departure from Sanur Beach.
Eka Jaya fast boat offers a daily departure from Serangan and Gili Islands.
There are more fast boat operators that you can book for your Nusa Penida Island tour. To see the details and book your fast boat, please select a fast boat to Nusa Penida for details.