Fast Boat to Nusa Lembongan
---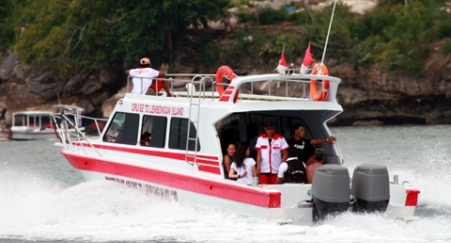 Fast boat is the best choice to reach Nusa Lembongan from Bali. Most fast boat to Nusa Lembongan are depart from Sanur Beach. and they offer a free hotel pick up and drop off in Bali and Nusa Lembongan. Nusa lembongan is reached by fast boat in 30 minutes,the fast boat operators offer four times schedules every day,start at 09.30 AM in the morning until 05.00 PM, all schedules are listed on Our site, check for Sanur to Nusa Lembongan fast boat on the seach box and they are all shown.Fast boat operators also offers some Island Tours packages in Nusa Lembongan,you can book more packages tours in Nusa Lembongan with the lowest price. Ask Us about the tours by sending an email thrugh the contact form provide.
Gilibestdeal.com is the only online booking that offers the cheapest tickets fast boat to Nusa Lembongan with an instant booking confirmation and electronic ticket. To get a great deal, go to search box "Book fastboat Tickets Here", choose destination to Nusa Lembongan and book the one with your budget or go to each fast boat review, Scoot Fast Cruises and Rocky Fast Cruises. This two operators are the most recommended boats to Nusa lembongan.
Nusa Lembongan Day Activities
Nusa Lembongan has a lot of day activities to offer, Diving,Snorkeling,Island Tour(see underground house,mangrove,seaweed farm), Glass Bottom Boat,cliff jumping,cycle around the Island,Surfing, Sea walker,or just relax on the beach. To book the activities, you can reach each operetor who provide the program or your day activity in Nusa Lembongan.
Fast Boat operators also offer some day packages to Nusa Lembongan,Day cruise package with the fast boat and hotel transfers in Bali. The tour will be start with the hotel pick up at 08.00 AM and leave at 09.00 AM from Sanur Beach. The tour will ended at 04.00 PM and get back to Sanur at 04.30 PM. You will be at Sanur at 05.00 PM and then drop to your hotel. To book your tour you can contact Us at reservation@komodowisata.com.
The most preferred way to see Nusa Lembongan around is getting on the bike, this is quite easy for you to spend your day. Bike s are very easy to find, some of bike rental are coming down to offer you, so you can manage an easy way to find them, Rent a bike for IDR 50.000 per day and get around . the best places to visit are Dream Beach, Devil's tear, Mushroom Bay, Mangrove, Underground house , Sea weed farm, Playground (surfing Point), choose your places to visit on Nusa Lembongan and book fast boat to Nusa Lembongan for the best to get to Nusa Lembongan.
Getting around Nusa Lembongan can be spend a full day, depend on the activities you are going to do, most traveler who stay on Bali just spend a full day on Nusa Lembongan with the activities arranged by some tours operators. To have a good day you can also arranged fast boat from Sanur to Nusa Lembongan which is including the activities or day tour on Nusa Lembongan, this is may be much easy because most they offer are complete day tour with the transport arrangement from your Hotel in Bali and on the way back as well.
Getting to Bali from Nusa Lembongan
Bali is just about 30 minutes from Nusa Lembongan by fast boat, to get the boat from Nusa Lembongan to Bali you can book the ticket online with Us, the boat schedules to Bali are four times a day. Start early in the morning at 08.00 AM and the last departure at 05.00 PM, so if you prefer to have a long day on the island you can book the latest departure from Nusa Lembongan. Boat company most offer a free hotel pick up on Nusa Lembongan and free hotel drop off in Bali. Book for cheapest fast boat to Bali online with with Us, a recommended travel agent who always provide an easy way to book your travel.
Getting to Gili Islands and Lombok from Nusa Lembongan
If you expect to have a holiday in Gili Islands while you are still on Nusa Lembongan and don't know how to do that, Don't worry" we have all the complete things to offer you on this site. We have serve boat tickets from Nusa Lembongan to Gili Islands, to book the ticket you can go to search box "book fast boat tickets" and search for Nusa Lembongan to Gili Islands (Gili Trawangan,Gili Air,Gili Meno and Lombok). As one of Fast Boat ticket agency, we have been running a special offer for the fast boat tickets from Nusa Lembongan to Gili Islands and Lombok with an instant booking confirmation and immediately receive an e-ticket. Book for best tour and activities on Nusa Lembongan and get the boat ticket with the great price only online with Us.
The boat that running daily from Nusa Lembongan to Lombok and Gili Islands is scoot fast Cruise, this is the only boat operator that service the route at the moment. So there is almost no space if you make a booking one day before departure, you should book in at advance two or three days before the departure, it will be much easy and easy to find a seats availability. Return trip from Gili Islands and Lombok can be arranged online, here you can have options, book a boat via Padang Bai or Sanus. Both are good with the best price guarantee. The boat also landing on Lombok, so it will be a good way if you want to visit Lombok from Nusa Lembongan. You can book for a fast boat to Lombok from Nusa Lembongan.