Bali to Nusa Penida, Cheap Fast Boat
---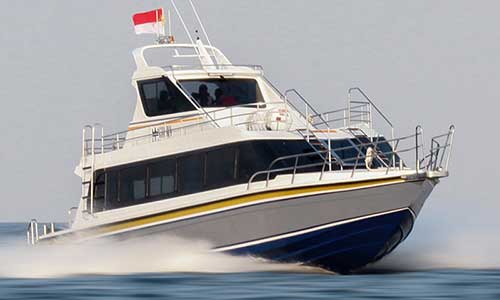 The best access from Bali to Nusa Penida is using a fast boat. The fast ferry from Bali to Nusa Penida operates daily trips from Sanur, Serangan, and Padang Bai. They offer more than 2 schedules every day.
Nusa Penida is a 30-minute fast boat from Bali run by some fast boat operators, especially from Sanur. The island is located in Southeast Bali. It offers a wide area for diving, beautiful beaches, and spectacular views.
Cheap Fast Boat from Bali to Nusa Penida
Below are the fast boats that run daily to Nusa Penida:
Maruri Duta Express is a comfortable fast boat that departs from Sanur to Nusa Penida. It has 4 daily schedules every day and will add more schedules in peak season.
Mola Mola Express offers three daily schedules from Bali to Nusa Penida. The early departure is at 08.00 am from sanur.
Crown Fast Cruises offers daily schedules with 4 departures from Sanur Beach to Nusa Penida. The boat has comfortable seats with an air conditioning room.
Bali Eka Jaya Fast Boat offers 2 daily schedules from Serangan to Nusa Penida. One in the morning at 08.00 am and one in mid-day at 12.00.
Golden Queen Fast Boat departs from Sanur Beach. This is one of the large space fast boats from Bali to Nusa Penida. Golden Queen offers 4 times daily schedules to Penida.
Elrey Junior Fast Cruise is a daily boat trip from Sanur with 3 times schedules in a day.
All the above fast boats offer a daily departure from Bali. Maruti Duta Express, Mola Mola Express, Crown Fast Cruise, and Elrey Junior Cruise depart from Sanur. While Eka Jaya Fast Boat and Golden Queen Fast Boat depart from Serangan and Padang Bai.
Nusa Penida Fast Boat Schedules, Prices, and Trip Duration
Fast boat schedules and prices:
Maruti Duta Express departs from Sanur at 07.30 am, 08.30 am, 10.00 am, 04.00 pm. Price range is $17/per person for one way, return tickets $34.
Mola Mola Express departs Snaur at 08.00 am, 10.00 am, and 04.00 pm. Price range $21/person for one way, return trip $42.
Crown Fast Cruise departs from Sanur at 08.30 am and 11.15 am. Price $19/person for one way, return ticket $38.
Eka Jaya Fast Boat departs from Serangan at 08.30 am. Price $19 per person from one way, return $38.
Trip Duration
Sanur to Nusa Penida approximately 30 minutes
Serangan to Nusa Penida approximately 35 minutes
Padang Bai to Nusa Penida approximately 45 minutes
Note: The trip duration depends on the sea condition, it can be more or less.
Included and excluded in the Price
Included in the prices:
Hotel transfers for specific areas in Bali (Kuta, Legian, Seminyak, Sanur, and Nusa Dua).
Mineral water on the boat
English speaking crew and licensed captain
Porter port to port
Excludes:
Hotel transfers in Nusa Penida
Meals
Insurance
The extra cost for hotel transfers in Bali is not mentioned in the covered areas.
Personal expenses
Accommodation
etc