Fast Boat to Gili
---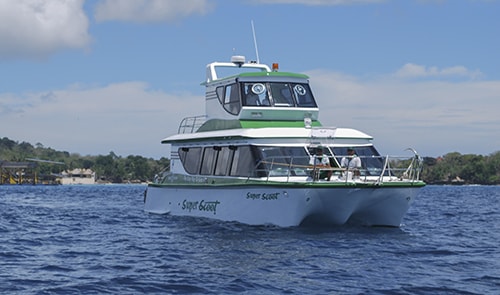 Fast boat to Gili is the best option to get to Gili from Bali, Lombok, and Nusa Lembongan. Gili Islands have been the fastest growing islands that are located in the North Lombok. There are now setting up a variety of accommodation from backpackers, mid-range, and the star hotels.
The main support is the fast boat to Gili which is going directly to the Islands. The fast boat offers a daily departure from any port in Bali, Lombok and Nusa Lembongan. On our site you are free to choose the port you are going to leave from.
Fast boats are starting to operate the direct route to the Islands since 2007. There were some companies such as Blue Water Express and Gili Cat recognize as the leading company. Both companies departed from different ports in Bali. BlueWater Express departs from South Bali, while Gili Cat departs from Northeast Bali.
The Best Fast Boat to Gili
The boat to Gili offers a daily departure from Bali. There are some ports that you can consider to leave, such as Sanur beach and Padang Bai. Sanur and Serangan are the close port from South East Bali. It recommends if you stay in Kuta, Legian, Sanur, Nusa Dua, and Jimbaran. You will need 30 to 45 on the car to catch the boat.
Padang Bai is also the best port if you stay in Ubud and Candidasa. It is the closest port to catch a boat, however, you can get on the boat from Padang Bai if you stay on the South Bali. Most of the fast boat operators offer free hotel transfers from your hotel.
Jemeluk Beach is another port located on the Amed, you can also take a boat to Gili if you are staying around the Amed area. If you are in Nusa Lembongan, Jungut Batu harbor is the only port for the fast boat transfers to Gili Islands.
Here are the best boats to Gili:
Bluewater Expres departs from Serangan (Southeast Bali).
Gili Gili Fast Boat departs from Padang Bai (Northeast Bali).
Scoot Fast Cruises depart from Sanur (Southeast Bali).
Eka Jaya Fast Boat departs from Padang Bai (the Northeast Bali).
Gili Getaway fast boat departs from Serangan (Southeast Bali).
When you decided to take a fast boat to Gili, the first thing to read each fast boat review. And then you can go to the search box to book your tickets. The Cheapest Gili fast boat tickets are only available when you book online with us.
Check out also the fast boat to Gili Trawangan, for details trip schedules and price. Price listed is including with free hotel transfers in Bali for specific areas. And other remote areas may need to pay extra cost.
The Gili Fast Boat Schedules 2020
The Gili fast boat offers 2 times departure from Padang Bai, one time from Serangan and Sanur. The earliest departure from Padang Bai is at 09.00 am and the afternoon is at 13.00. While Serangan is at 08.30 am and Sanur is at 09.00 am.
Here below are the details of the schedules:
BlueWater Express:
Serangan to Gili: 08.00 am and 11.00 am
Gili to Serangan: 11.15 - 11.45 and 14.30 - 15.00
Scoot Fast Cruises:
Sanur to Gili: 09.30 am
Gili to Sanur: 13.45
Eka Jaya Fast Boat:
Padang Bai to Gili: 09.00 am, 10.00 am, and 01.30 pm.
Gili to Padang Bai: 11.00 am, 12.15 pm, and 03.00 pm.
Note: To see the details, you can check through the search box at home.
The estimated travel time from Serangan and Sanur is 2 1/2 hours, while from Padang Bai is 1 1/2 hours.
Free Hotel Transfers in Bali
Gili Fast boat offers free hotel transfers from Kuta, Legian, and Sanur. You can check each fast boat operator for details schedule every day. To get a special offer for the boat to Gili, you can check online through the search box.
Find the boat operator you would like to book and pay online to get a space. Each fast boat operator is provided hotel transfers and some might be not. So always try to see the boat review before making a booking for your Gili transfers boat from Bali.
Boat to Gili is the only best access to the Island at the moment. Book your Gili boat from Bali in advance to get a space. Request for the pick up if you are staying on the covered pick-up area such as Kuta.