Speed Boat from Lombok to Gili
---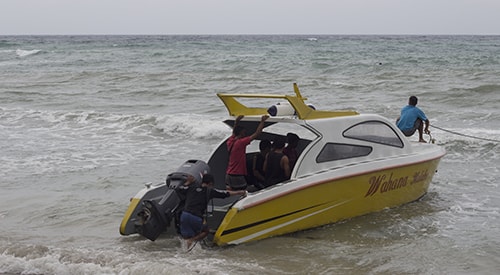 Gili Islands is about less than 15 minutes by speed boat from Lombok. This is the only easy way to get to Gili Islands from Lombok.
There are many speed boats from Lombok to Gili which is running daily from Senggigi, Teluk Nare, and Bangsal. These speed boats are scheduled more than 4 times in a day, especially from Bangsal or Teluk Nare.
Speed boat operators also offer the private ride to Gili Trawangan, Gili Meno, and Gili Air. The last departure of speed boat is at 19.00. When you need to book the private seed boat to Gili, just contact us via e-mail or phone.
Gili Best Deal as the local leading online booking offer special rate for a speed boat from Lombok to Gili. The boat operators are now scheduled six times in a day. The first speed boat departure is at 06.00 AM. And the last departure is at 19.00.
Lombok speed boat spends about 15 minutes to get to Gili Trawangan. And less than 15 minutes to Gili Air and Gili Meno. You need to check in 30 minutes before departure if you join the trip.
We also provide the cheapest Gili fast boat tickets from Senggigi. The destination of Gili fast boat is Gili Trawangan, Gili Meno, and Gili Air. The fast boat to Gili departs one time in a day.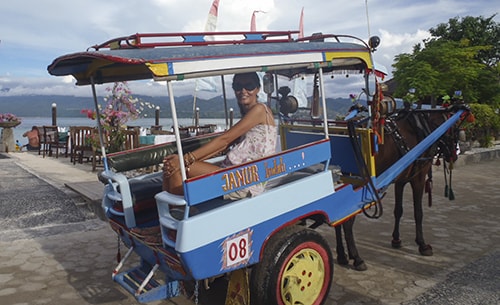 Hotel transfers for speed boat from Lombok to Gili
Fast boat operator will provide free transfers from your hotel in Senggigi to the port. To check the boat availability you can go to a search box. Senggigi to Gili is about 25 minutes with the fast boat. The boat departs from Senggigi at 12.45 and it goes to Gili Trawangan and Gili Air. Teluk Nare is about 25 minutes from Senggigi or Mataram.
Special offer when you book speed boat from Lombok to Gili online with us. All you need to do is complete the booking form we provide. And provide also your hotel details if you need a pickup service around Senggigi.
Take a private car to get to Teluk Nare harbor or taxi from Senggigi, Mataram, and Airport. We also provide hotel transfers that you can book and pay online with the speed boat booking. The transfers duration from Lombok Airport to Teluk Nare is about 1 1/2 hour, depend on the road traffic.
Boat to Gili is most do with the private transfers. They will go straight when you arrive in the harbor. So you won't need to wait for the other passengers. This also happens when you book the boat transfers from Gili Islands to Lombok.
Meeting point is shown on your booking confirmation and e-tickets. There are also contact details for speedboat operator or our reservation contact. Show your tickets to the boat staff for the boarding pass. Boat staff are less in English, so you have to understand them during the boat transfers.
When you get to Gili Islands, there might be Cidomo come appear you and offer you hotel transfers. You need to pay extra for them. Cidomo price is listed on the front desk of the horse cart. Price depends on the hotel location you stay.
If you take return transfers, you need to call us one day before to reconfirm your ticket. Our numbers or e-mail are listed on your e-tickets or booking confirmation. Inform us if you are having a problem during the trip on fast boat Bali Gili.
Speed Boat Schedules from Lombok to Gili 2018:
Dept
Arrival
Origin Port
Dest.Port
Approx Duration
Transit
Max Baggage Allowance

06.00
08.00
10.00
11.30
14.00
17.00
19.00

06.15
08.15
10.15
11.45
14.15
17.15
19.15

T Nare
Gili T
15 Min
No
25kg/person

06.30
08.30
10.30
12.00
13.30
14.30
16.30
18.30

06.45
08.45
10.45
12.15
13.45
14.45
16.45
18.45

Gili T
T Nare
15 Min
No
25kg/person