Gili Fast Boat
---
Gili fast Boat is the majoring support of increasing numbers of visitors in Gili Islands. The fast boat Bali Gili operate daily to Gili islands, Lombok, Nusa Lembongan, and Nusa Penida.
Since the first running in 2007, the number of visitors to the Gili Islands and Lombok are increasing day by day. As well the numbers of accommodation and restaurants on Gili islands are starting to be up every day.
Following the year 2007, numbers of the fast boat company are rising up. There were Gili Cat and Blue Water Express set up since 2007 to present. And then Eka Jaya fast boat was coming afterward. All these fast boat operators are running daily from Bali to Gili and Lombok.
See the details of Scoot Fast Cruises, Eka Jaya Fast Boat, Patagonia Xpress, Kuda Hitam Express, and Wahana Gili Ocean. They operate daily fast boat Bali Gili, Nusa Lembongan, and Lombok.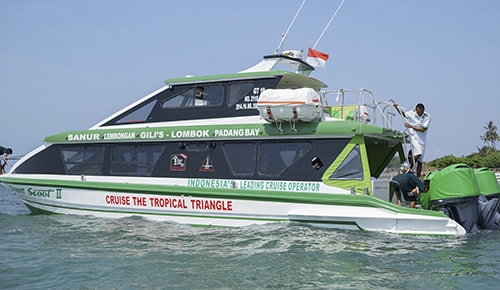 The safety traveling of Gili Fast Boat
One of the most important thing on serving the transfers between Bali, Gili islands, and Nusa Lembongan is Safety. It is really mean everything when you travel in safety from Bali to Gili and Lombok.
All the fast boat operators listed on this site are complete with an International standard safety. Every fast boat to Gili and Lombok has passed through the Master harbor authority. They have clearly checked all the things and make sure the boat condition is well for the trip.
New big capacity fast boat to Lombok is complete with an International safety standard. The most concentrated in this case is increasing the standard service to the high-quality service.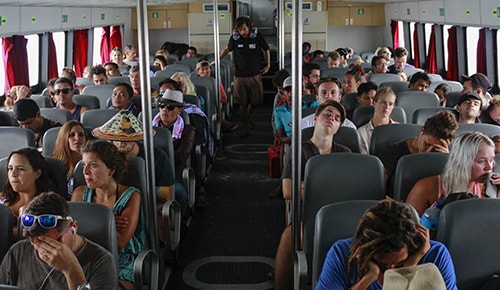 Fast Boat Bali Lombok
As one of the reliable online booking tickets for fast boat Bali Lombok, Gilibestdeal.com has offered some great discounts. To see the discounts, you can go to the search box.
Most we offer the direct fast boat to Lombok such as Scoot Fast Cruise and Golden Queen Fast Boat. These two Lombok fast boat operators are landing straight in Senggigi, the main tourist object in Lombok.
The trip is approximately taking 1 ½ hours from Padang Bai and 2 1/2 hours from Sanur. When you are on the boat from Bali to Lombok, you will pass Lombok strait and Badung Strait. These straits which are connecting between Bali and Lombok.
Lombok fast boats are designed well for the sea condition between Bali, Lombok and Gili Islands. Been years experience operate the fast boats between Bali and Lombok is the greatest goal of fast boat operator.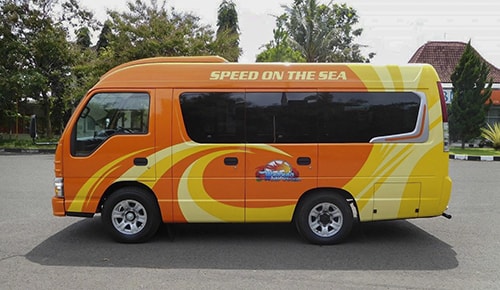 Fast Boat Bali to Gili Meno
It was quite a difficult before to land fast boat in Gili Meno, due to the water shallow. The island only accesses by local outrigger boat from Gili Trawangan, Gili Air, and Bangsal.
Around 2017, some fast boat operators were trying to land on the island. But still, they can no longer run afterward. Then the idea was coming, they use scooter boat to transfer you to the beach. This is better then you have to take the local boat from Bangsal or Gili Trawangan.
Fast boat to Gili Meno which operates daily from Bali is Eka Jaya Fast Boat and Scoot Fast Cruises. Book them if you want to go to Gili Meno.