Fast Boat from Bali to Gili Air
---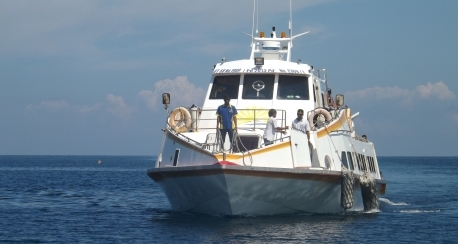 Getting to Gili Air is not that difficult since fast boat are starting operate direct to Gili Air in the last few years. Most fast boats are landing here.
Bali To Gili Air Via Padang Bai
There are numbers of fast boats offer daily trip from Bali to Gili Air via Padang Bai,they are depart at different time and even some operate the afternoon schedule, Gili Air can be reach in 1 ½ hours on the boat and can be more if the sea is rough. The most scheduled boats to Gili Air are; Wahana Gili Ocean, Marina Srikandi, SemayaOne Fast Cruise, Mahi Mahi Fast Boat. Marina Srikandi seems to be more schedule, they offer two time in a day, in the morning and in the afternoon, while others are scheduled only one time, in the morning. When you book the boats to Gili Air, make sure your ticket is state on the destination to Gili Air.
Bali to Gili Air via Sanur
The is also a fast boat serve a daily trip from Bali(Sanur) to Gili Air,the departure is only one time in a day, at 09.30 AM. It will be the best choice if you are staying in Sanur area as it's only two step away from your Hotel. Scoot fast cruises with its great service offer the trip between Sanur and Gili Air,the boat will stop at Senggigi and then Gili Air, after that to Gili Trawangan and Back to Bali. Always make sure your destination is Gili Air on your booking step and as well on your ticket.
Fast Boat to Gili Air via Amed
Kuda Hitam Express Boat is the only fast boat running daily from Amed to Gili Air, the boat leaves at 09.00 AM from Jemeluk beach Amed. Kuda hitam Express Boat will make a first stop in Gili Trawangan,Gili Meno and then Gili Air,continue to Lombok and then back to Amed.
Fast Boat to Gili Air via Serangan
The Blue Water Express boat and Marina Srikandi Fast Boat have been open new additional route from Serangan to Gili Air. The boat Blue Water Express makes a first stop in Padang Bai,continue to Gili Trawangan,Teluk Kodek and then Gili Air and it's depart daily at 08.00 AM from Serangan harbor,the approximately travel time is 2 1/2 to 3 hours. While Marina Srikandi Fast Boat has two times schedule from Serangan every day, in the morning they leave at 08.15 AM and in the afternoon at 01.00 PM, these schedule are offer daily with free hotel transfers in Bali for some spesific areas. Marina Srikandi makes a first stop in Teluk Nare,Gili Air and then Gili Trawangan. The circumtance of route are depending on the sea condition.