Rinjani Trekking Packages, Lombok Island
---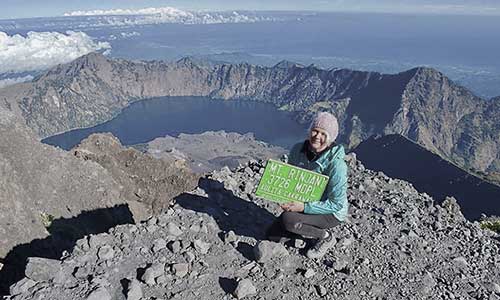 Rinjani Trekking Packages are one of our best-recommended activities for you on Lombok Island. Climbing the second highest mountain in Indonesia, experience a lifetime adventure with the professional local operator. Book one of our recommended Rinjani trekking packages for your best adventure experience.
Rinjani Mountain is located in Lombok island, West Nusa Tenggara Indonesia. It is one of Indonesia's famous active volcano mountains. Rinjani volcano's height is 3.726m, it is laid in North Lombok to the East Lombok.
Recommended Rinjani Trekking Packages
Below are our recommendations for Rinjani volcano trekking packages:
2 Day Rinjani volcano trek to Rim
3 Day Summit Rinjani volcano trek
The trekking packages will start from Sembalun and Senaru. For your best arrangement, you need to make an advance booking. We are only working with reputable trekking operators, Guides, and Porters.
Rinjani Volcano Trekking Prices
2 Day Rinjani Volcano Trek:
1-3 participants: $250 per person
4-5 participants: $240 per person
6-7 participants: $225 per person
8-9 participants: $215 per person
10+participants: $195 per person
3 Day Summit Rinjani Volcano Trek:
1-3 participants: $320 per person
4-5 participants: $300 per person
6-7 participants: $280 per person
8-9 participants: $265 per person
10+participants: $265 per person
Note: There will be $10 per person for environmental eco-sustainability.
Inclusive:
Trekking Guide
One night accommodation before you trek in Senaru
Hotel/Airport Transfers for Senggigi area, Kuta, Mataram, and Lembar harbor. Gili Islands (meeting point harbor on all Gili Islands) or Bangsal, Teluk Kodek, and Teluk Nare.
Meals, mineral water, tea/coffee during the trekking
Porters
Tents, mattresses, sleeping bags, pillows, cooking equipment, and blankets.
Excluded:
Trekking shoes
Personal expenses
Insurance
Sticks
Raincoat
etc
The Best Time to do a Rinjani Volcano Trek
The best time to do a Rinjani volcano trek is from April to December all year. April and December is the rainy season, so you will have more rain experience. May to September is the most pleasant time to do your Rinjani trek. Rinjani National Park is closed from 1st January to 31st of March. It will officially open on the 1st of April.
For future information on Rinjani trekking packages, you can contact us at +6285102666556.