Semayaone Fast Cruise Boat
---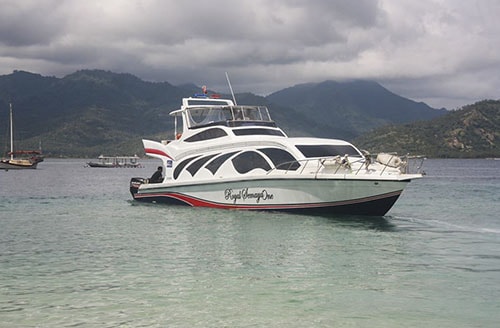 Semayaone fast Cruise Boat runs two boats with a capacity of 80 passengers and 60 passengers. The company offers a daily departure from Padang Bai, Bali.
The Balinese biggest boat transfers which operate more than 5 years can accommodate your trip to the islands beyond Bali. The professional boat crews and the best local management make them one of the favorite transfers at the moment.
All of the boat which operate are in good condition with the International standard safety. The morning trip can be amazing as the sea is rather calm.
Boat Destinations
Semayaone Fast Cruise Boat offers a daily trip from Bali to the following destinations:
Lombok
Gili Islands (Gili Air and Gili Trawangan).
Nusa Lembongan
Bali
For the Gili islands and Lombok, the boat will make its first stop in Gili Trawangan. After that, Gili Air and Lombok. When you book for Semayaone Fast Cruise Boat, you can be on any of their two boats.
Free Hotel Transfers
The boat price is including free hotel transfers in Bali. They offer transfers from South Bali areas, Central Bali, and North Bali. Here are in the following for the details areas:
Kuta
Legian
Seminyak
Jimbaran
Macdonald
Sanur
Nusa Dua
Coco Mart Ubud
If you stay outside of the areas, you may need to pay the extra cost for transfers. Otherwise, you may come by yourself to the harbor. On Gili Islands and Lombok, they will not offer free transfers due to the local agreement.
Schedules and Trip Duration
The boat travel time is approximately 1 1⁄2 hours from Padang Bai. The first stop is in Teluk Nare, Lombok, after that Gili Air and Gili Trawangan. The following are the boat departure schedules:
Padang Bai to Lombok and Gili Islands is at 09.30 am.
Lombok to Padang Bai is at 11.00am
Gili Air to Bali is at 11.30am
Gili Trawangan to Bali at 12.00am.
The boat circumstance is sometimes may change due to the sea condition. It can go to Gili islands first, and then Lombok.
Specification of Semayaone Fast Cruise Boat:
Length: 16M
Beam: 3,8M
Engine: 5x250 Hp Suzuki Out Boards.
Capacity: 60 Passengers
Safety Equipment:
Life Raft: 2 units x 30
Life Jackets: 65 units
Fire extinguishers
Navigation and Facility:
GPS
Compass
Radar
Marine VHF ship to shore Radio
Toilet, AC, GPS, DVD Player
Note: The Boat Travel time can be more or less, depending on the Sea condition. Check out details price of fast boat to Gili Trawangan. Read the review and choose the best.