Semayaone Fast Cruise Boat
---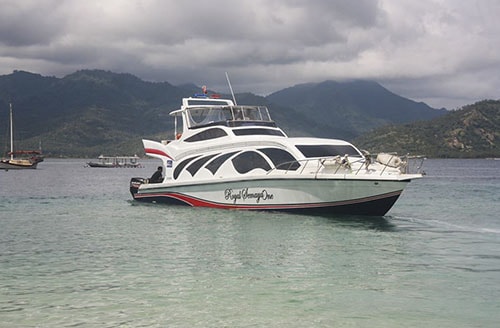 Semayaone fast Cruise Boat has been run two different boat capacity at the moment, Semaya One Romantica with the capacity 80 passengers and The Royal Semayaone with capacity 60 passengers. Both boats are running daily from Padang Bai, one in the morning and in the afternoon (seasonal). Semayaone Fast Cruise will make its first stop in Gili Trawangan and then Gili Air, after that Lombok. The boat travel time from Padang Bai to Gili Trawangan is approximately 1 1/2 hour.
The first boat departs from Padang Bai at 09.15 AM and the second one is at 13.00. Both schedules make their first stop in Gili Trawangan, see the bellow tables for schedules details of Semayaone Fast Cruise.
When you book for Semayaone Fast Cruise, you can be on any of their two boats and in the even of trip problems such as cancelation or any other problems, they may be put you on the other boats and these are all under Semayaone Fast Cruise responsibility.
Gilibestdeal.com as the credibility online booking site offers the cheapest Gili fast boat tickets to Gili and Lombok for Semayaone Fast Cruise with the easy booking confirmation and quick e-tickets delivery as you have made a payment. We are the only online booking agency who work directly with Semayaone Fast Cruise.
Service Types within the Price
The service is including with pick up and drop service in Bali, South Bali (Kuta, Legian, Seminyak, Jimbaran Macdonald, Sanur, Nusa Dua, they will not provide any pick up service or drop off outside of the mentioned areas above, so if you stay not in the areas mentioned, please make your own way to the harbor in Padang Bai, make sure you have your ticket and if you find any problem, call any numbers listed on your ticket. The boat travel time is approximately 1 1⁄2 hours from Padang Bai. The first stop is in Teluk Nare(Lombok), after that Gili Air and Gili Trawangan and then Gili Trawangan to Bali. This circumstance may change sometime, depending on the sea condition. When you book for Semayaone, you may be getting on one of them; Semayaone I, Semaya Romantica or The Royal Semayaone, but three of them save have an International standard safety.
Boat Specification
Length: 16M, Beam:3,8M, Engine: 5x250 Hp Suzuki Out Boards, Capacity: 60 Passengers, Safety Equipments: Life Raft: 2 units x 30,Life Jackets: 65 units, Fire extinguishers
Navigation and Facility
GPS, Compass, Radar, Marine VHF ship to shore Radio, Toilet, AC, GPS, DVD Player
Schedule SemayaOne Fast Cruise 2017-2018
Departure Point
Departure Time
Arrival Time

Destination Port

Approx Duration
Baggage Allowance
Ticket Price
Padang Bai

Gili Trawangan
Gili Air
Lombok

25kg/person
$30
Gili Trawangan
25kg/person
$30
Gili Air
25kg/person
$30
Lombok
25kg/person
$30
Note: The Boat Travel time can be more or less, depending on the Sea condition.