Scoot Fast Cruises Boat
---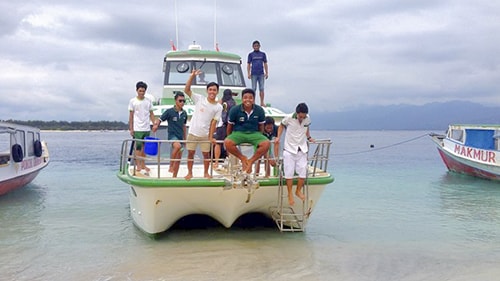 Scoot Fast Cruises offers a daily departure from Bali(Sanur) to Nusa Lembongan,Lombok(Senggigi),Gili Air and Gili Trawangan. A catamaran boat with an International standard safety has been operate this route for more than 14 years, there are some awards (Indonesia Travel awards) they have been hold during the years. This boat is making it first stop in Nusa Lembongan, then continue to Lombok and then Gili Islands. This circumtance may be change sometimes, depend on the sea condition or other reason.
Scoot Fast Cruises also offer an Island hopping boat for Nusa Lembongan,means you can stop over on Nusa Lembongan and then next you can continue to the island you are going to travel (Gili Islands or Lombok), this is flexible, you may request at any days to continue your trip, but it always depend on the seat availability. To book the tickets for island hoping, you can go to search box, book one way or return tickets from Sanur to Lombok or Gili Islands and then request for an island hoping by leave a note on the booking form or contact direct by email to us.
Bali to Nusa Lembongan
Scoot cruise was the leading fast cruise operator from Bali(Sanur) to Nusa Lembongan, the company was established around 2004 and the only one fast boat which is serve the route with their 25 scoot capacity. The increasing numbers of visitors was one of their reasons to have another boat. And around 2010 was a great years for them, they can operate a big catamaran boat with capacity 55 passengers. Scoot Fast Cruise operate four times in a day to Nusa Lembongan. At Gilibestdeal.com, you can easily find the cheapest fast boat to Nusa Lembongan tickets and get the e-ticket instant in your e-mail.
Bali to Gili islands and Lombok via Sanur
Scoot Fast Cruise also operate daily fast boat to gili (Gili Trawangan, Gili Meno and Gili Air) and Lombok Island from Bali. The boat leaves at 09.30 AM from Sanur harbor and the first stop is in Lombok(Senggigi),after that Gili Air and Gili Trawangan and then back to Bali Via Nusa Lembongan. The travel time is 2 ½ to 3 hours. Scoot fast cruise operate two boats between Bali,Lombok and Gili Islands,they have a 55 and 25 capacity. When you travel with Scoot, you can be on the both of them.
Service types within the Price
Scoot Fast Cruise provides free hotel pick up and drop off in Bali (Kuta,Legian,Seminyak,Nusa Dua,denpasar,Sanur,Ubud central(Monkey forest),Canggu(minimum 2 person, pay extra for one person),Nusa Lembongan and Lombok(Area senggigi). They don't have any free pick up or drop off in Gili islands. Out of the mentioned areas above need to pay extra for the pickup and drop. On the boat, they provide mineral water (Free), snacks box (free for the morning departure from Bali) and also mini Bars (sell some can beers, soft drinks and cheeps).
Boat Specifications:
Type: Catamaran,Length: 14M,Beam: 4M,Draught: 3M,Engine: 4x300 HP Yamaha Out boards,Speed: 40 Knots max, Safety Equipments: 55 pc Life jackets, 2 x 25 passenger Life Raft, 2 set Flare, EPIRP, Fire Extinguisher, Fire Pump, Marine Radio Communication, First Aid and 2 Unit Life Ring
Navigation Equipments: GPS Map Plotter, Radar 18 Mile, Sonar Depth Sounder and Auto Pilot
Scoot Fast Cruises Schedules 2017-2018
Departure Point
Departure Time
Arrival Time
Destination Port
Approx Duration
Baggage Allowence
Tickets Price
Sanur
09.30 AM

10.00
12.15
13.00
13.20
13.30
14.00

Lembongan
Senggigi
Gili Air
Gili Meno
Gili T
Bangsal

30M
1h45min
3h30min
3h50min
4h
4h30min

25kg/person
$46
Gili Trawangan
13.45
25kg/person
$46
Gili Air
12.45
25kg/person
$46
Gili Meno
13.00
25kg/person
$46
Sanur
25kg/person
$29
Lembongan
25kg/person
$29
Note: Scoot Fast Cruises use their inter island boat for the pick up you in Gili Air,Gili Meno and Bangsal, so if you go from Gili Air, Gili Meno and Bangsal, they will pick up you to join the boat at 13.45 from Gili Trawangan to Bali. So Their last departure is at 13.45 from Gili Trawangan, they will pick up you earlier in Gili Meno, Gili Air and Bangsal.