Patagonia Xpress
---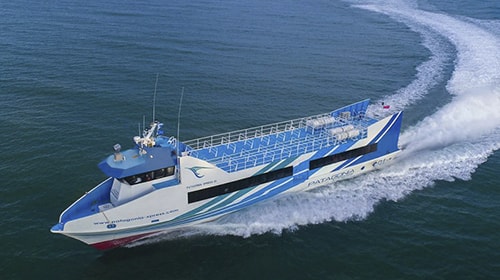 Patagonia Xpress is an aluminum designed the fast boat with a capacity of 174 passengers. The boat is running daily from Benoa harbor to Nusa Penida, Gili Islands, and Lombok via Padang Bai.
The largest boat with the speed 30 knots has been running for more than one year. It has become one of the favorite choices of traveling from Bali to Gili Islands and Lombok for most travelers.
At the moment Patagonia Xpress running one boat and will soon they promise to run Patagonia Xpress II. Patagonia Xpress II will most do the afternoon schedules on the same route they have at the moment.
The Gili Trip Duration
The boat departs in the morning from Benoa harbor and makes its first stop in Padang Bai. After that, it will continue to Gili Trawangan, Gili Air, and Lombok.
On the way back the boat will leave Bangsal harbor to Padang Bai and Benoa. It also makes the same way from the Gili Islands and Lombok to Bali.
The approximate travel time from Benoa is 2 1/2 to 3 hours, depend on the sea condition. While the boat travel time from Padang Bai to Gili Islands is 1 1/2 hours. Patagonia Xpress makes its first stop on Gili Trawangan and then Gili Air, after that Bangsal and then back to Bali.
Pick up and drop off in Bali and Lombok
The service is including with the hotel transfers from or to Kuta (central Parking Kuta, in front of Giant Supermarket), Legian, Nusa Dua and Sanur for the departing schedule from Benoa. And If you choose to depart from Padang Bai they have only provided the pickup and drop off in Ubud, the meeting point is at Coco Supermarket at Jalan Raya Pengosekan Ubud. So you have to be there at 09.00 Am.
If you decide to come by yourself to the port, make sure you are there at least 30 minutes before departure. If you find any problem during the transfers or trip, for example not find the place to check-in, please find the numbers of Patagonia Xpress on your e-ticket that we have sent to your email.
To book the ticket for Fast Boat to Gili on Patagonia Xpress through the search box Book Fast Boat Tickets Here, fill out carefully the form provided.
Patagonia Xpress Specification:
Patagonia Xpress is the only largest boat capacity with the standard International safety equipment. Here below are the complete boat specifications:
Length: 33,75m
Breath: 6m
Depth to Main Deck: 2,6m
Material: Aluminium
Capacity: 174 seats
Speed: 30 knots
Main Engine: 2 (twin) MAND 2862 LE 463, tier 2, 2400hp, 2100rpm, Grea box ZF complete with 2 water jet Marinejet power 500 hybrid
Generator: 2 unite marinized Mitsubishi Genset 22, 4kw 1500rpm
AC:4 units
Life Raft: 25 men inflatable life raft 8 units
Warning: Due to the intern problem, Patagonia Xpress has been Stop operation for an unknown period of time. However, you can still select another boat listed here for your Gili islands and Lombok transfers.