Marina Srikandi Fast Boat
---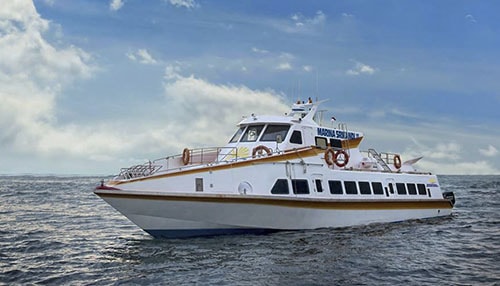 Marina Srikandi Fast Boat is one of the popular daily fast boat transfers from Bali. The company has rapidly developed in the last few years they run.
At the moment Marina runs four boats, Marina Srikandi 1, Marina Srikandi 2, Marina Srikandi 8 and Marina Srikandi 11. They run from 3 main harbors in Bali, such as Padang Bai, Amed, and Serangan.
They have been set up a new better service, one boat for one Island. So you will go straight to your destination like Gili Trawangan, Gili Air or Lombok without any stop. Marina Srikandi's fast boat provides a comfortable boat which is most boats are bigger, up to 50 seats.
The Boat Destinations
The Marina Srikandi offer a daily departure from Bali to the following destinations:
Nusa Lembongan
Gili Islands (Gili Trawangan, Gili Air, and Gili Meno).
Lombok
Bali
Marina also offers the private boat charter for groups to the above destinations. If you want to take a private boat transfer, you need to arrange at least one month's advance.
The other destination of Marina Srikandi offers a daily trip from Bali to Banyuwangi in East Java. They almost offer to all the destinations beyond Bali, especially to the most touristic islands.
Free Bali Hotel Transfers
The Marina Srikandi fast Boat provides free hotel transfers in Bali with the sharing shuttle bus. The free hotel transfers are provided from South Bali areas, Central, and North Bali. Here on the following details are the transfers areas:
Kuta
Legian
Sanur
Seminyak
Coco Mart Ubud
BTDC Nusa Dua
McDonald Jimbaran
If you stay outside of the above areas, then you need to pay the extra cost. The areas that are not including such as Canggu, Uluwatu, and Candidasa. Otherwise, you can come by yourself to the harbor.
Schedules and Trip Duration
A land drive from South Bali to Padang Bai is approximately 1 1⁄2 hours. However, if there is not really traffic it may take less than 1 hour. The boat travel time from Padang Bai to Gili Islands and Lombok is 1 1⁄2 hours.
The Marina Fast Boat offers 3 times schedules a day from Bali. Here are the following details:
Serangan to Gili Islands and Lombok at 08.00 am.
Padang Bai to Gili Islands and Lombok at 09.00am, 11.00am, and 13.00.
Bangsal (Lombok) to Bali at 10.30 am, 12.30, and 14.30
From Gili Air to Bali at 11.00 am 13.00, and 15.00.
Gili Trawangan to Bali at 11.30 am, 13.30, and 15.30
Fast Boat Specifications
Boat type: Fiber Monohull
Capacity: 138 People
Length: 18,80M
Beam: 5,19M
Engine: 8x300HP Suzuki Outboards
Top Speed: 45 Knots
Cruising Speed: 30Knots
Safety Equipment:
Life raft: 2 unitsx65
Life Jackets: 150 units
Life Buoy: 6 units
2 fire extinguishers
4 emergency exit doors
First Aid box
Navigation Equipments and facility:
GPS
Compass
Radar
Marine VHF ship to shore Radio
Toilet, AC, Led TV show to live GPS, DVD Player.
Note: The boat circumstance and estimate time may be changed, depending on the sea condition. And the boat travel time can be more or less, depending on the sea condition.