Marina Srikandi Fast Boat
---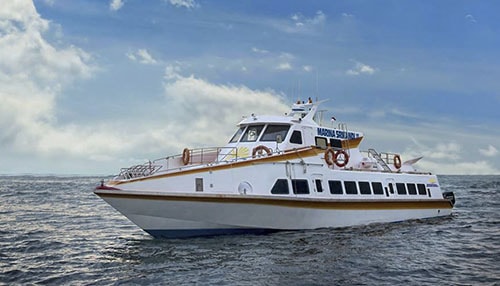 Marina Srikandi Fast Boat offers daily transfers from Serangan (Bali) to Gili islands and Lombok. Under a local management, the company has rapidly developed in serving the transfers between Bali, Lombok and Gili Islands. Marina Srikandi has offer more schedules; in the morning, midday and in the afternoon. The schedules really depend on the season, on the peak season they may run three schedules, but in the low season, they run only two schedules. At the moment Marina has run four main fast boats, Marina Srikandi 1, Marina Srikandi 2, Marina Srikandi 8 and Marina Srikandi 11.
Marina Srikandi serves a direct service from Bali(Serangan) to Gili Trawangan, Gili Air and Lombok(Teluk Nare). They have been set up a new better service, one boat for one Island, so you will go straight to your destination like Gili Trawangan, Gili Air or Lombok. Marina Srikandi fast boat has a provide a comfortable boat which is most boats are bigger, up to 50 seats.
A new schedule also offers with a daily operate by Marina Srikandi Fast Boat from Amed to Gili Trawangan, Gili Air and Lombok, this is the best choice if you are staying around Amed and hoping to get a boat to Gili Islands and Lombok. The boat leaves at 10.30 Am in the morning from Jemeluk Beach Amed port and straight to Lombok before Gili Air and Gili Trawangan. The travel time from Amed is about 45 minutes to one hour on the boat. Boat capacity is 80 passengers and complete with an international standard safety. To book the ticket from Amed to Gili Islands and Lombok on Marina Srikandi, you can go online through the search box. Choose your destination and complete your contact details and then pay online through Paypal or Credit Card. Bank transfers also provide the channel payment. Marina Srikandi seems to be more developed during the last few years with their new schedule offered. Book fast boat Amed to Gili or Amed to Lombok and get the discount online with us. Price always depends on the season. To book a fast boat to Gili Trawangan on Marina Srikandi you can go to the search box.
Service Types within the Price
Marina Srikandi fast Boat provides free hotel transfers in Bali with the sharing shuttle bus, the most they do pick up and drop is from/to South Bali as on the following areas; Kuta, Legian, Sanur, Other areas such as Canggu, Uluwatu, Bingin Beach, Candidasa and some others areas may need to pay extra directly to the driver or office Marina Srikandi, the amount depends on the distance of the of your place. A land drive from South Bali to Padang Bai is approximately 1 1⁄2 hours, however, if there is not really traffic it may take less than 1 1⁄2 hours.
The boat travel time from Padang Bai is 1 1⁄2 hours, can be less or more, depending on the sea condition. When you book for Marina Srikandi, you might get on the fourth of them, can be on the Marina 1, Marina Srikandi 2, Marina Srikandi 8 or Marina Srikandi 11, all the boats are maintained well for the crossing between Bali, Lombok, and Gili Islands and have the International standard safety.
Boat Specifications
Boat type: Fiber Mono hull, Capacity: 138 People, Length: 18,80M, Beam: 5,19M, Engine: 8x300HP Suzuki Outboards, Top Speed: 45 Knots, Cruising Speed: 30Knots, Safety Equipments: Life raft: 2 unitsx65,Life Jackets: 150 units, Life Buoy: 6 units,2 fire extinguishers,4 emergency exit doors, First Aid box
Navigation Equipments and facility: GPS, Compass, Radar, Marine VHF ship to shore Radio, Toilet, AC, Led TV show live GPS, DVD Player.
Note: The boat circumstance and estimate time may be changed, depending on the sea condition