Mahi Mahi Fast Boat
---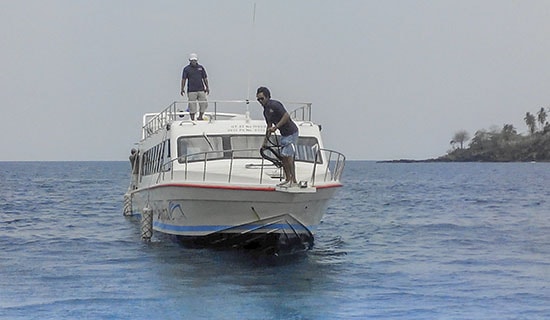 Mahi Mahi Fast Boat offers a new branding boat with 75 passengers and totally fiber glass boat. The company has been set up a strong team work to set a better services to the clients, at the moment Mahi Mahi put a good record during they run the company. Mahi Mahi run a daily transfers from Bali(Padang Bai) to Gili Islands and Lombok. The first stop is in Senggigi, then Gili Air and Gili Trawangan, after that back to Bali.
Mahi Mahi Fast Boat with a new profomance,complate with comfortable seats and other great facilities can serve you direct to the Gili Islands in shortest possible,they have a great ride at maximum 45 knots per hour. Frindly crews and an experience Captain sailing between Bali and Gili Islands. The ticket fast boat to Gili and Fast Boat to Lombok can be easly book online through the seacrch box, choose Mahi Mahi Fast Boat with the special offer.
Mahi Mahi Fast Boat has been one of the favorite boat operator during the last few years as it is always develope the service time by time, so they can put the quality of service to be number one among the fast boat from Bali to Gili and Lombok.
Mahi Mahi Fast Boat has running two main boat at the momment, so when you get on Mahi Mahi Fast Boat, you can be on any of their boat as the schedule they have that day. Always make sure that the boat you get on is state on your ticket. If you find any problem with the booking engine to book Mahi Mahi Fast Boat, you can call us direct or send us an email through contact menu.
Service Including within the Price
The service is including with free Hotel pick up and drop off in Bali for the most area in South Bali:
Kuta and Legian, Nusa Dua, Seminyak, Sanur, Jimbaran, McDonal, Kerobokan, Denpasar City.
You need to pay extra if you are staying outside of the above area like:
Canggu,Uluwatu,Bingin Beach and candidasa.
The boat travel time is 1 1⁄2 hours from Padang Bai, this can be less or more, depend on the sea condition.
Boat Specifications
Length: 18,4M
Beam: 4,10M
Max Speed: 45Knot
Engine: 5x250HP Suzuki Out Boards
Capacity : 75 People
Safety Equipments and Navigation:
Life Raft :3x25 Unit
Life Jacket: 75 unit
Rings: 4 units
Electric Flushing Toilet
GPS, EPIRB
Marine VHF ship to shore Radio
Mahi Mahi Fast Boat Schedules 2017-2018
Departure Point
Departure Time
Arrival Time
Destination Port
Approx Duration
Baggage Allowence
Ticket Price
Padang Bai
09.30

Senggigi
Gili T
Gili Air
Bangsal

1 H
1 1/2H
1H 50min
2H 15min

25kg/person
$25
Senggigi
11.05
25kg/person
$25
Gili Air
11.15
$25
Gili Trawangan
11.30
25kg/person
$25
Note: The estimate time of traveling can be more or less,depend on the sea condition.