Kuda Hitam Fast Boat
---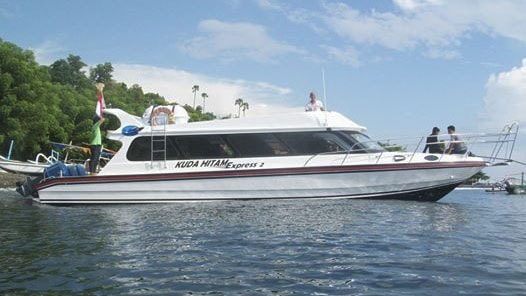 Kuda Hitam Express is the only fast boat which operates daily from Amed in North East Bali. This is the perfect way to get to Gili Islands and Lombok if you are staying in the North East Bali like Amed and Tulamben. The boat is operating in the morning at 09.00 Am from Jemeluk Beach in Amed. Amed is about 4 hours drive from Kuta and Legian. So if you stay in Kuta or Legian you need to arrange your own transport from Kuta or Legian.
Kuda Hitam Express has been operated a 45 boat capacity and serves daily to Gili Trawangan, Gili Air, and Lombok. The boat has offered a convenient trip with a daily schedule and the only shorter sea crossing which is taking about 45 minutes to 1 hour.
Kuda Hitam Express has been running for over six years and becomes one of a reputable company in the field. Under a Canadian management, the company offers the safety boat trip with an International standard. To book a fast boat to Gili on Kuda Hitam Express, you can go to the search box, check the availability, price, and schedules.
Gili Best Deal as the reputable for online booking agency running a special offer for Kuda Hitam Express tickets. We have been working under contract with Kuda Hitam Express for more than 5 years and has been served more than a million satisfied customers.
Service Types within the Price
The service is including a free hotel pick up and drop off around Amed and there may be some extra for the remote areas, mineral water on the boat
The boat first will direct to Gili Islands(Gili Trawangan, Gili Air) and then to Bangsal-Lombok. After that back to Bali-Amed. It takes only 45 minutes to 1 hour to get to Gili Islands.
In the even of boat cancel, Kuda Hitam Express will arrange you another boat via Padang Bai and they will also arrange you the transfers from Amed to Padang Bai. Most you will catch the boat at 13.00 from Padang Bai or midday boat schedules.
Boat Specifications and Facility
Length: 13M
Capacity: 45 people
Engine:3x200 HP Suzuki
Life Raft : 2 x25
Life Jackets: 45
Radio and GPS
Toilet
Kuda Hitam Express is currently not running to Gili Meno due to the water condition on the Island, but they are planning to have a schedule in the future.
Fast Boat to Gili Meno are most depart in the morning from Padang Bai, check through search box to find the boat running from Bali to Gili Meno. Most they offer the schedule in the morning from Padang Bai to Gili Meno.
If you have any problem during the trip with Kuda Hitam Express, please contact the office to the numbers on your e-ticket or reach the office of Kuda Hitam Express in Amed.
Kuda Hitam Express Schedules 2017-2018
| | | | | | | |
| --- | --- | --- | --- | --- | --- | --- |
| Departure Point | Departure Time | Arrival Time | Destination Port | Approx Duration | Baggage Allowance | Ticket Price |
| Amed | 09.30 | | | | 25kg/person | $30 |
| Gili T | 10.30 | | | | 25kg/person | $30 |
| Gili Air | 11.00 | | | | 25kg/person | $30 |
| Bangsal | 11.30 | | | | 25kg/person | $30 |
Note:
The circumstance of Boat may change and the estimated times can be more or less, depending on the sea condition.