Gili Getaway Fast Boat
---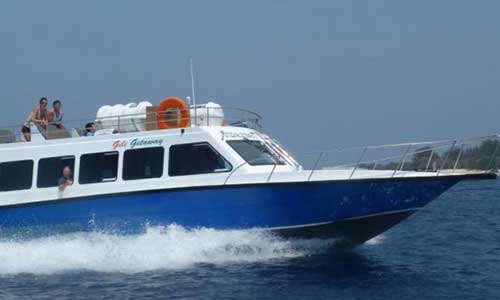 Gili Getaway Fast Boat is the fastest recommended fast boat transfer from Serangan to Lombok and Gili Islands. The boat offers a daily departure from Serangan, Southeast Bali. It goes straight to Gili Trawangan, Gili Air, and then Lombok.
Gili Getaway is one of Bali's longest-running fast boats from Bali. They have been running for more than 10 years. The company has a proven track record, safety, and top recommendations in the largest travel media.
Gili Getaway fast boat runs 3 main boats at the moment. And they go to different destinations such as Gili Islands and Lombok, Nusa Penida and Lembongan. The largest capacity is 40 passengers and the smallest is 12 passengers.
Gili Getaway Fast Boat Schedules
Gili Getaway is the most recommended fast boat if you're planning to travel from Bali via Southeast Bali. The boat offers a daily departure from Serangan harbor which is close to Kuta, Legian, Benoa, and Nusa Dua. Below are the details of Schedules:
Boat Schedules 2019-2020:
Serangan to Gili Trawangan, Gili Air, and Lombok: 09.00 am
Gili Trawangan to Serangan: 11.45 am
Gili Air to Serangan: 12.00 am
Bangsal (Lombok) to Serangan: 12.15 pm
For the best trip arrangements, you need to check-in 30 minutes before the departure schedule.
Note: The time of departure is subject to change, depending on the sea condition. Gili Getaway will officially inform you if there is a change.
Boat Bali to Gili and Lombok
As one of the most popular fast boat operators, Gili Getaway has been running regularly from Serangan. They offer an exclusive service with the free hotel pick up and drop off in some specific areas in Bali. Gili Getaway runs one boat from Bali to Gili and Lombok at the moment.
The travel time from Serangan to Gili and Lombok is approximately 2 1/2 hours. It can be more if the sea condition is rough. They will make the first stop in Gili Trawangan, after that Gili Air, and Lombok. This circumstance can be changed without any notice.
At Gili Best Deal, you are advised to make a booking in advance to get the best arrangement and best deal. We recommend making it at least 3 days before departure because the boat is always fully booked. Your confirmation and tickets will be sent automatically to your email after you make a full payment.
Boat Specification
Gili Getaway has operated 3 main boats on a different route. The details of boat specifications are as per the following details.
Gili Getaway II and V:
Engine: 4 x 250hp 4 strokes Suzuki outboard motor.
Top speed: 34 knots
Average/cruising speed: 28 knots
Capacity: 40 passengers
5 crew, fully licensed and certified experienced captains
Toilet
Sundeck
Gili Getaway III:
Engine: 4 x 250hp 4 stroke Suzuki outboard motors.
Top speed:38 knots
Average/cruising speed: 30 knots
Boat Capacity: 36 passenger
4 crew, fully licensed, and certified experienced captains.
Toilet
Sundeck
Note: When you travel on Gili Getaway from Bali to Gili and Lombok, you can be on any of their boats.