Freebird Express II
---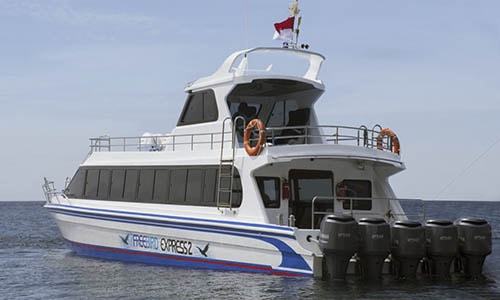 Freebird Express II offers daily transfers from Amed to the Gili Islands and Lombok. The company is highly recommended for the fast boat transfers to the Gili Islands and Lombok. The Freebird Express II is the newest boat that offers an International safety standard.
The boat departed at 09.30 AM from Amed in the North East Bali. The first stop will be on Gili Trawangan, and then Gili Air and Lombok. The trip to Gili Trawangan is taking about 45 minutes to 1 hour. After that, it returns from Bangsal in North Lombok at 11.45 AM to Amed. And you will arrive in Amed at 12.45 - 13.00.
The ticket price is including a free hotel transfer in the Amed area. If you stay outside of their hotel transfer service, then you need to pay extra on the date of departure. To book the hotel transfer, you can fill out the booking form provided.
The boat only provides the route from Amed to Gili islands and Lombok. If you stay in South Bali, then you need to take the fast boat from Benoa, Serangan and Padang Bali. Boat prices and schedules are listed on the search box.
Amed to Gili Trawangan
The boat Amed to Gili Trawangan is approximately 45 minutes, however, it can be less or more, depending on the sea condition. In the rough sea condition, it can be spent 1 1 1/2 hours or more.
Free Bird Express II is the best choice for the quickest boat transfers from Amed to Gili Trawangan. This is the only large boat crossing daily to the islands of Gili and Lombok.
To book the Free Bird Express II, you can go to the search box, choose your travel date and times of departure. They offer free hotel transfers for the Amed area, so do not forget to leave your hotel details on the booking form.
Freebird Express II Boat Specifications:
Capacity: 70 Passengers
Engine: Yamaha 5 x 250hp
Crew: 6 fully licensed crew and Captain
Length: 15.81m
Safety Equipment:
2 life raft
80 life jackets
2 life ring
GPS Navigation
EPIRB
Marine VHF Radio
Boat Facility:
Flush Toilet
Deck
TV screen
Note: If you are looking for the best fast boat from Padang Bai or Sanur, see the boat recommendation here. There you can find the perfect boat for your holiday transfers.