Eka Jaya Fast Boat
---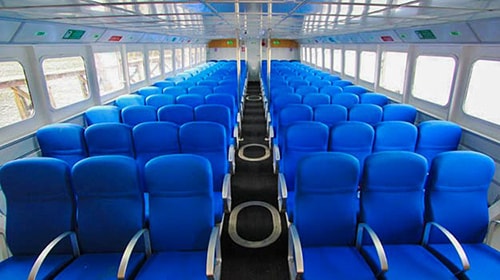 Eka Jaya Fast Boat has been established since 1999 with the business concentrated on the Sea transportations and serve the route between Bali to Nusa Ceningan and in 2008 the company expanded the business and start opened new route which serves the route from Bali to Gili Trawangan, Bali to Lombok, Bali to Nusa Lembongan, Bali to Gili Air and Bali to Gili Meno. The man has found a great value in the tourism and is one of the reputable Sea transportations over the years.
Eka Jaya Fast Boat has now provided some comfortable fast boats which are running daily between Bali, Nusa Lembongan, Lombok and Gili Islands. Fast boat is running daily from two main port in Bali, Padang Bai Port, and Serangan Port. At the moment Eka Jaya Fast Boat has running three mains vessel with the large capacity up to a hundred passengers each. Totally with the aluminum materials and designed with the cozy style make this fast boat become one of the most safety fast boat running between Bali and Gili Islands, Bali and Lombok. The boats leave Serangan at 08.00 AM to Nusa Lembongan, Ceningan Island, Gili Air, Gili Meno, Gili Trawangan and Bangsal in Lombok, after that back to Bali via the same way and then stop at Serangan Port. The boat estimate time from Serangan to Gili Islands is about 2 ½ hours. When you get on the Eka Jaya Fast Boat from Serangan, you can be on one of any vessel they have scheduled that day, so you may be on any of Eka Jaya fast boat. The boat from Gili Trawangan to Serangan will depart at 03.30 PM, so they don't have a morning schedule from Gili Trawangan or Gili Air to Serangan.
Eka Jaya Fast Boat also offers a daily fast boat from Padang Bai Port to Lombok, Gili Air, and Gili Trawangan, they have offered three times in a day with the early schedule is at 08. 30 AM, second departure at 10.30 AM and the third departure are at 02.00 PM. The boat estimate time from Padang Bai to Gili Islands is approximately 1 ½ hours, depending on the weather at the time. These schedules are daily operated and in the peak season, they have open the additional trip schedules to cover the loading of passengers. Since the operation in 2008 from Bali to Gili Islands Eka Jaya Fast Boat has recorded that this company is one of reliable fast boat operator serving the transfers between Bali, Lombok and Gili Islands. And the fact is that the company has been growing up and trusted to be one of the most popular fast boats to use when you want to visit Lombok and Gili Islands.
As well as the boat which is departing from Serangan, Eka Jaya fast boat which departs from Padang Bai also have the same service, so you will get on any Eka Jaya boat as well. To get the best offer for the boat ticket Bali to Gili, Bali to Lombok and Bali to Nusa Lembongan, you need to book one online with Us.
Gilibestdeal.com always offers the cheapest ticket for the fast boat to Gili, Bali to Lombok, Bali to Nusa Lembongan, Bali to Ceningan and Bali to Nusa Penida. We are the only online booking portal which is contacted directly by the boat operator and has been working together during the last few years. We have been out of worried to give the special offer for the ticket fast boat from Bali to Gili Islands, Fast Boat to Lombok. To book the ticket for Eka Jaya Fast Boat from Bali to Gili, from Bali to Lombok, you can go to search box and choose the date of departures and route, then select for Eka Jaya fast boat. For most we offer at the moment is discount rate from the operator fast boat.
Eka Jaya Fast Boat has offer hotel transfers in Bali which are including on the price for the following areas; Nusa Dua, Jimbaran MacDonald, Kuta, Legian, Seminyak, Sanur, Candidasa and Ubud Central. Outside of these areas you need to pay extra directly to the boat operator or can be arranged online through our website. The boat operator Eka Jaya has also covered you with the insurance.
Always note that the boat circumstance is depending on the sea condition, it may change sometimes and boat schedule is sometimes late due to any reason of the operator itself. For the most delay boat departure are caused bad weather, loading passengers or other reason are legitimate by the operator, see our term and conditions of bookings.
Eka Jaya Fast Boat Schedules 2017-2018
Departure Point
Departure Time
Arrival Time
Destination Port
Approx Duration
Baggage Allowence
Ticket Price
Padang Bai

Gili T
Gili Meno
Gili Air
Bangsal

25kg/person
$29
Padang Bai

Gili T
Gili Meno
Gili Air
Bangsal

1 1/2H
1H 45min
2H
1 1/2H

25kg/person
$29
Gili T
25kg/person
$29
Gili Meno
25kg/person
$29
Gili Air
25kg/person
$29
Bangsal
25kg/person
$29
Gili T
25kg/person
$29
Gili Meno
25kg/person
$29
Gili Air
25kg/person
$29
Bangsal
25kg/person
$29