Eka Jaya Fast Boat
---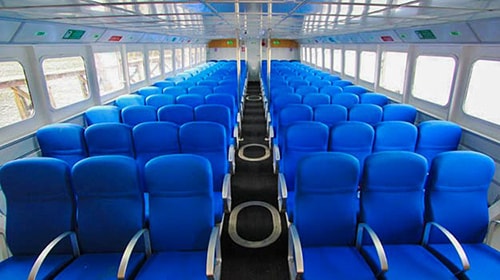 Eka Jaya Fast Boat has been established since 1999. The business concentrated on the Sea transportations service, especially Nusa Ceningan. Their boat serves daily departure from Bali to Nusa Ceningan.
In 2008 the company started to open the route Bali to Gili Islands and Lombok. The company has found great value in tourism, and become one of the reputable sea transportations.
They always commit to providing comfortable fast boats to their customers. The great thing that put this company on the top traveler's review is they provide the largest boat capacity. They commit to being on time for the pickup service and departure time.
The Bali Eka Jaya Fast boat is running daily from Padang Bai Port and Serangan Port. At the moment they run three mains vessels with the largest capacity up to a hundred passengers each.
Departure & Destinations
Eka Jaya offers a daily departure from 2 main harbors in Bali:
Padang Bai Harbor
Serangan Harbor
The destinations of Eka Jaya fast boat are:
Nusa Lembongan
Nusa Penida
Ceningan Island
Gili Trawangan
Gili Meno
Gili Air
Lombok
The destination Nusa Penida, Lembongan, and Ceningan can be reached to their daily schedules from Serangan. And if you stay on the North East Bali like Candidasa, you can reach their schedules from Padang Bai.
The boat departure point for the destination Lombok and Gili Islands is Serangan and Padang Bai. You can reach both of these harbors.
The boat which departs from Serangan will make some stopover in Lembongan, Ceningan, Nusa Penida, and Padang Bai. After that, the boat continues to Lombok and Gili Islands. If you want to go straight to Gili Islands and Lombok, you can book the one leaving from Padang Bai.
Eka Jaya is the only fast Boat that can reach Gili Meno at the moment. They over two times schedules from Padang Bai to Gili Meno or Gili Meno to Padang Bai.
Eka Jaya Fast Boat Prices and the Service
The ticket prices for departure from Serangan to Nusa Lembongan start from $18 USD per person for one way.
The Gilis and Lombok destination from Padang Bai is starting from $35 USD per person for one way. And Serangan to Gilis and Lombok is starting from $55 USD per person for one way.
All the prices above are including with the free Bali hotel transfers for some specific areas like Kuta and Legian. Onboard, you can get free mineral water. Insurance is also provided by Eka Jaya Fast Boat.
There may be an additional cost for each port authority, such as Padang Bai and Gili Meno. In Padang Bai, there is Rp.60.000 per person and Rp.25.000 for Gili Meno. You can pay this additional cost direct to Port Authority when you are boarding.
The bellow boat specifications and facilities are Eka Jaya Fast Boat 25:
Specifications:
Length: 35m
Breadth: 5,5m
Depth: 2,25m
Material: Aluminium
Capacity: 210 Passengers
Speed Max: 35knot
Engine: 4 x Volvo D16 750hp
Generator: Yanmar 40 KVA
Air Conditioner: Hitachi 3 x 6hp
Liferaft: 5 X 56 person
Facilities:
210 comfortable seats
Flush electric toilet
Air Conditioner
Upstairs open deck
Lead TV
Radio Communication
Always note that the boat circumstance is depending on the sea condition, it may change sometimes. And boat schedule is sometimes late due to any reason of the operator itself.
For the most delay boat departure are caused bad weather, loading passengers or other reason. These are legitimate of the boat operator.
To Book and see the schedule of the boat, you can go to the search box on home page.