Blue Sea Jet Fast Boat
---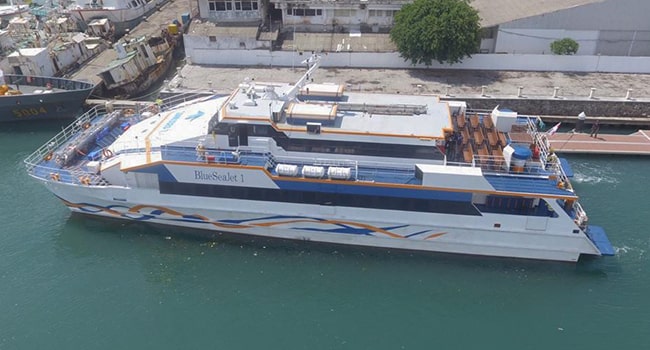 The Blue Sea Jet fast boat is the only fastest boat that offers a daily departure from Benoa. This new fast ferry brand has operated since 2018 with a capacity of over 300 passengers.
Benoa harbor is another exclusive harbor in Southeast Bali. There are no slow public ferries operating from here. The only cruises you will see are the local cruise ships and worldwide cruise line ships.
The Blue Sea Jet Fast Boat is the only fast boat operating from Benoa harbor at the moment. The catamaran Blue Jet Sea boat operates one schedule a day, the available schedule is in the morning.
Blue Sea Jet Fast Boat Destinations
Blue Sea Jet offers a daily schedule from Benoa harbor in Bali to the following destination:
Gili Trawangan
Gili Air
Lombok
The boat is not landing on Gili Meno. When you want to go to Gili Meno, you need to book the destination Gili Air or Gili Trawangan. Then you will be on the local boat for less than 10 minutes.
Schedule and Trip Duration
The Blue Sea Jet Boat departs in the morning at 08.00 am from Benoa harbor. The first stop is in Lombok, and then Gili Air and Gili Trawangan.
Land transfers from the Kuta and Legian areas are approximately 30 minutes long. From Ubud, it takes about 45 minutes, while from Uluwatu and Canggu it takes approximately 1 hour.
The boat trip duration from Benoa to Lombok and Gili islands is approximately 2 1/2 hours to 3 hours. It depends on the sea condition at the time of travel.
Included in the Prices
Blue Sea Jet offers free hotel transfers from or to the following destinations in Bali:
Kuta and Legian
Benoa area
Nusa Dua
Sanur
MacDonald Jimbaran
There are some remote areas in which you may need to pay extra costs such as Ubud, Uluwatu, and Canggu. The extra cost is approximately $25 per car, depending on the distance of your hotel.
You will also have free mineral water and a fresh towel on the boat. They are not providing snacks and soft drinks on the boat, so you need to bring your own.