Getting to Gilis from Lombok
---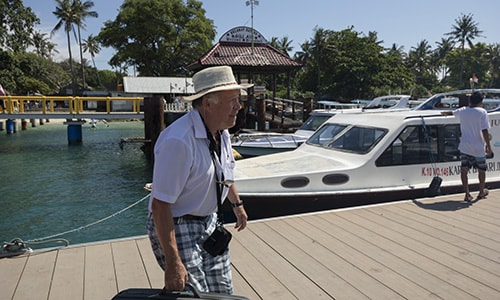 There are ways of getting to Gilis from Lombok, see the below you may save for your holiday planning:
By local boat from Bangsal harbor
Bangsal is the main port for local boat transfers to Gili Islands; Gili Trawangan, Gili Meno, and Gili Air. Bangsal Harbor is located on the North Lombok, about 30 minutes from Senggigi. And it is almost 1 ½ hour from International Airport Lombok.
The way you can use to get to Bangsal are take a Blue Bird Taxi or hire a private car. The taxi is normally cost about IDR 150.000 from Mataram or Senggigi. And about IDR300.000 from Lombok International Airport.
Note that in Bangsal the taxi or car cannot take you straight to the harbor due to the harbor authority. So you have to get off at the bus station and walk or get or horse cart for about 300 meters.
Local boats are frequency depart every hour or depend on the numbers of the passenger. Most they will boarding when there are 20 people on the list. So you have to wait for less than one hour sometimes.
The official ticket office for the boat is located in the harbor area under name Koperasi Karya Bahari. The ticket price is listed on the board in the office.
Here is the new tickets price for the boat from Bangsal to Gili Islands:
Bangsal to Gili Trawangan is IDR15.000 per person
Bangsal to Gili Meno is IDR12.000 per person
Bangsal to Gili Air is IDR10.000 per person.
You can also do a private charter, price approximately IDR300.000 per boat. There is also speed boat which is based on sharing depart from Bangsal. The price is listed in the office as well. The speedboat will go from Bangsal to Gili Air, Gili Meno and then Gili Trawangan. Fat boat to Gili is departing four times in a day.
Private speedboat from Teluk Kodek or Teluk Nare
These harbors are used to be the private harbor for hotel guest transfers or materials from Lombok to Gili Islands. Most activity here seems to be much private compare to Bangsal.
Now Teluk Kodek and Teluk Nare have been a popular harbor to find the private speedboat to Gili Islands. Speedboats are scheduled any times here and you can arrange in advance.
These harbors are 30 minutes from Senggigi and about 10-minute ride from Bangsal. You can get here by taxi or book a private car in advance.
Speedboat price is different for each destination. To see the full list price that we offer you can go to the search box. Search for the speedboat from Lombok to Gili Trawangan, Gili Air or Gili Meno. We also offer hotel transfers, the extra cost is about 150.000 Rupiah per car from Senggigi or Mataram.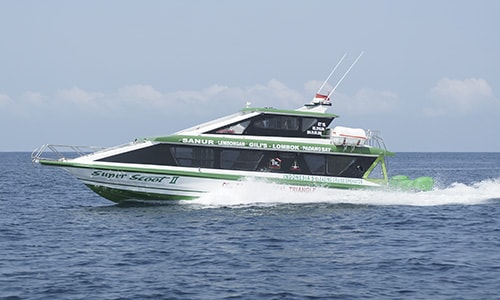 Fast Boat from Senggigi
Senggigi is one of the harbors for the fast boat from Bali to Lombok and speedboat to the Gilis. This harbor is located about 10 minutes from the main road.
There is the fast boat from Senggigi to Gili which operates a daily trip. The destination of Lombok Fast Boat is Gili Trawangan and Gili Air. The fast boat to Gili scheduled two times every day.
Giligetaway is the only boat transfers between Lombok and Gili Islands from Senggigi. To see boat schedule and price you can go online through the search box. Search for the boat from Lombok to Gili Trawangan or Gili Air.
Price may be a bit different from speedboat that leaves from Teluk Nare, as the boat capacity is different. Other boat transfers from Senggigi to Gili Islands are not listed on our site yet as they do not fix the schedule yet. However, you can still book the speedboat to Gili from Teluk Nare.
Senggigi harbor is about 15 minutes from Mataram, about 1 ½ hours from Lombok International Airport. If you are in Kuta Lombok, then you need 2 hours to get to Senggigi. Theis transfers estimate is depending on the road traffic, can be more or less.
The best way to book the fast boat tickets from Lombok to Gili is to make a booking in advance to get a special offer from us.